Transformed through Science
"I've been prepped, pushed, and challenged beyond my limits and it has helped me to learn what is meaningful to me. I've accomplished way more as a student than I ever thought possible." —Sydney Thomas
Sydney Thomas entered Suffolk University as a hardworking biochemistry student and was transformed into a "gifted scientist" who has excelled in research, internships, as a teaching assistant, and in community service.
Thomas, Class of 2018, a biochemistry major, has conducted research at the highest level, taught children in the community about health issues, and delivered national presentations focused on cancer research, drug recovery, and the environment.
"Suffolk has groomed me to have wings and fly," she said.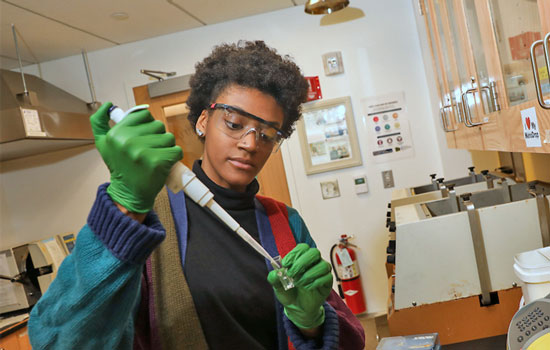 Seeking Challenges—and Excelling
Thomas wasted no time getting involved on campus. While a freshman, she saw a flyer for a chemistry teaching assistant job. She applied, got the position, and was eventually named Lab Assistant of the Year.
Thomas' way of helping others and her passion for science caught Professor Melanie Berkmen's eye, and she asked the promising young student to become her research assistant. Thomas' performance in this role led to internship opportunities and research presentations locally and nationally.
"I've been prepped, pushed, and challenged beyond my limits and it has helped me to learn what is meaningful to me," said Thomas. "I've accomplished way more as a student than I ever thought possible."
Sharing Internship Lessons
In the summer of 2017, Thomas was a research intern at a local biotechnology company, where she studied DNA repair mechanisms. These repair mechanisms are crucial for preventing cancer and keeping damaging mutations from accumulating in DNA. She brought the project back to the Biochemistry Department, where it may be included in the curriculum in the near future.
"This positive experience truly showed me that there is always more than what the eye can see," she said.
Taking Chances
Her first internship, in 2016, had been at Michigan State University, where she researched how a class of enzymes is able to change the structure of amino acids (alpha to beta) and how they can be used for medicinal purposes.
This experience also taught Thomas about life outside her comfort zone. "It advanced my confidence in being a scientist and affirmed that I was in the right discipline," she said.
Community Engagement
Thomas has participated in many community outreach activities as an active member of Suffolk's biochemistry and chemistry student clubs. She taught children a fun way to understand the importance of vitamins as a volunteer at the annual Cambridge Science Festival. And she helped to construct Boston Children's Museum experiments testing the five senses of the young visitors.
"Teaching children about science is making it applicable to them," she said. "You have to develop innovative experiments like constructing vitamin molecules using vitamin C-rich candies, or showing the hydrophobicity of oil in water using color dye."
Smiles in the Face of Challenge
Spending three years as a research assistant for Berkmen was a valuable component of Thomas' education.
"She taught me how to be resilient and strategic and how the little stuff really makes the big stuff happen," said Thomas of her mentor. "I've learned how to trust the process."
Berkmen said that Thomas has evolved from a hardworking biochemistry student into a gifted scientist. "Sydney has unlimited potential," she said.
"I know this because she is always smiling, even after an experiment fails. This is what it takes to succeed in science, because novel research involves trying new things that have never been done, which also means having a lot of unexpected challenges."
Next Up: PhD Program
The next challenge for Thomas begins this fall when she enters a PhD program in food science at the University of California, Davis. She has prepared for graduate study through the McNair Scholars Program at Suffolk.
Thomas will be moving on from a university she chose specifically because "it embodied unlimited and accessible opportunities."
Now four years later, Thomas is a shining example of a student who has reaped the benefits of everything that Suffolk has to offer. With graduation right around the corner, she looks back at her time at Suffolk with pride.
"My overall educational experience at Suffolk has been propelling," she said. "I've been surrounded by a community that allows people with multiple perspectives to come together to create a bigger picture. It affirms why I decided to come here in the first place."