To Heal the Political Divide, Cross the Empathy Bridge
Author Arlie Russell Hochschild encourages understanding, common ground at Ford Hall Forum
Sociologist Arlie Russell Hochschild wanted to understand the "red state paradox:" how could Tea Party supporters in red states be so against federal spending even though they need and would benefit from government programs?
That question is among those Hochschild explored in her New York Times bestseller and National Book Award finalist Strangers in Their Own Land: Anger and Mourning on the American Right. Her book inspired the musical, one state, two state / red state, blue state, by Suffolk University Theatre Professor Wesley Savick -- and Hochschild recently visited Ford Hall Forum at Suffolk to discuss understanding and overcoming the national discord.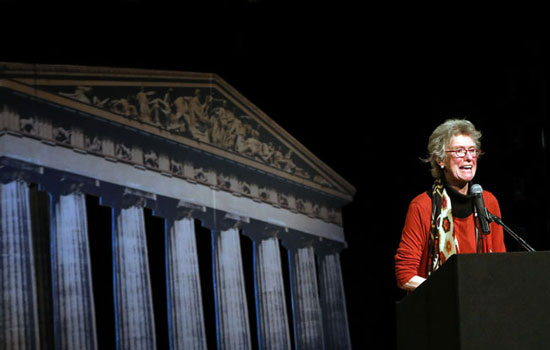 Strangers in their own land
The event opened with a musical number from one state, two state/red state, blue state called "Strangers" in which students portraying disaffected voters sang of their frustration with political elitism and their desire for change -- setting the stage for Hochschild to speak about her experiences leaving the "liberal bubble" of Berkeley, California, to connect with voters in the conservative stronghold of Lake Charles, Louisiana.
Hochschild described the political climate of 2011 -- with partisan gridlock in Congress and the rise of the Tea Party movement -- that led to her research.
"I realized I was in a bubble, geographically, and with the media I consumed," said Hochschild. "I realized I didn't know anything about what I saw looming. I wanted to find a place as far right as I was far left as a sociologist in Berkeley, so I went to Louisiana."
Her goal was to "try and cross the empathy bridge" and experience the world from a radically different perspective. Hochschild described her experience as transformative. "It didn't change my politics, but it changed me," she said.
Crossing the empathy bridge
Hochschild calls this "a dark moment" in the United States, but encourages hope through greater understanding and what she calls the Four Pillars of Activism:
Do anything and everything to defend democracy itself, including the press, the Department of Justice, and the separation of powers;
Revamp the platform of the Democratic party;
Get out the vote so people can feel their voices are heard;
Cross the empathy bridge and reach out to people who are different from you.
Hochschild shared stories of her many meetings with Louisiana tea partyers and staunch conservatives, as well as a few rare liberals. She befriended environmentalists like Peggy Frankland, who advocates for anti-pollution actions in a state that's often hostile to industry regulations and clean energy.
"Through Arlie's research, I learned that even though we environmental activists were united against pollution, we were worlds apart politically," said Frankland.
Both Hochschild and Frankland shared what makes them optimistic for the future, including the #metoo movement, the student activists who have emerged from the school shooting in Parkland, Florida, and young people like the two Suffolk students who opened the talk with their song.
Hochschild also expressed concern about the growing "respect deficit" in political rhetoric, and what she sees as a looming crisis in honor and manhood due to automation and the collapse of middle and working class jobs.
Responding to an audience question about overcoming anger toward the "other side," Hochschild again encouraged empathy.
"It's very important when you can understand the lens through which a huge proportion of Americans see the world," she said. "It illuminates what the crossover issues could be. Crossing the empathy bridge can help us find ways to actually be heard."