Confronting Racial Disparities
"We couldn't even have had this discussion 15 years ago. … We were so polarized. But now we can, and this is the beginning of change." —Carol Fulp, president and CEO of The Partnership
Remedying the inequities that feed Boston's longstanding reputation as a racist city – a reputation examined at length in a Boston Globe Spotlight series last year – was the focus of a discussion presented by the Ford Hall Forum at Suffolk University and the University's Public Policy and Practice Hub.
"You can't let progress go; you have to move the needle," said Carol Fulp, president and CEO of The Partnership, an organization that creates opportunities for professionals of diverse backgrounds. She was a panelist for "Boston. Racism. Image. Reality. Confronting Racism and Disparities: What's Next?"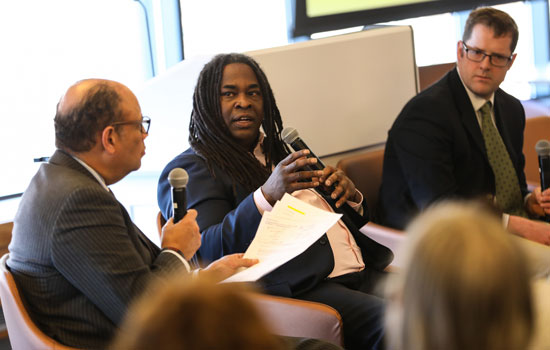 Lack of diversity in Boston's business sector was one of several areas analyzed in the Globe Spotlight series. Columnist Adrian Walker and reporter Andrew Ryan also discussed the report's findings on:
Disparity in personal wealth, with African-American households' median net worth at $8, compared to $247,500 for white households
Lack of diversity in the Seaport district
Health care, with a focus on disparities in outcomes and in where people comfortably seek treatment
Higher education, where enrollment does not reflect demographics
Sports, where bigotry rears its ugly head on talk radio and among some fans
Power, with a dearth of black faces in politics and boardrooms
Possible solutions, a discussion that brought in Fulp and Dan O'Connell, president and CEO of the Massachusetts Competitive Partnership, a public policy group focused on job creation and competitiveness in Massachusetts.
The Globe series came about after a Saturday Night Live quip referred to Boston as "the most racist city in America," according to Walker. So the Spotlight Team set out to learn if that longtime concept remained true, and the investigation began with conversations over dinner with African American Bostonians.
Perspectives on progress
"One of the interesting things when people talked about progress was that there is no longer fear of physical danger in certain neighborhoods," said Ryan, recalling the busing era, when passage through certain areas of Boston could bring a barrage of rocks or invectives. "What's the bar we're measuring from" in terms of progress in race relations? "It seems the bar should be higher than that."
Moderator Richard Taylor noted that this year marks not only the 50th anniversary of the assassinations of the Rev. Martin Luther King, Jr., and Robert F. Kennedy, but also 50 years since passage of the Fair Housing Act. King had said that conditions for African Americans in the North were in some ways more troubling than those in the South because there was no parity in housing, education, and other areas. The Globe series appears to prove King's point, according to Taylor, executive in residence at Suffolk's Sawyer Business School and director of its Center for Real Estate.
Shocking statistic
The panelists and audience members agreed that the most startling piece of data from the report was the $8 net worth of non-immigrant African-Americans in the Boston area, taken from a Federal Reserve study.
"So many people thought it was a mistake," said Walker.
In a way, that enormous discrepancy can be seen as both the cause and effect of the other disparities examined in the series.
"The data show people that black graduates might not want to stay in Boston long if their aim is to succeed," said Taylor, who noted that Boston's high cost of living also poses problems. "Talent will stay where there is opportunity," he said.
Catch-22
The panelists pointed out that African American students studying in area colleges and universities might be reluctant to make their careers in an area where they will see few black faces in the boardroom or in desirable neighborhoods. And in turn those schools, neighborhoods and professional workplaces won't diversify.
The Massachusetts Competitive Partnership recruits black talent at Southern and traditionally black colleges such as Morehouse, according to O'Connell. "We have to go on the road and say: 'Boston's not as bad as it was, and how do you feel about making it better?'"
Education & careers
Closer to home, the Massachusetts Competitive Partnership's career-building efforts are "focusing on community colleges, where there are more students of color," he said. The organization supports training, career-oriented curricula, paid internships in member companies, and transportation stipends in its efforts to prepare a diverse workforce for high-demand fields.
O'Connell confirmed that "the ranks of senior business leadership are filled with white men" and noted that his organization has only two women and two persons of color on its 17-member board. "We're working to recruit more," he said, and Fulp chimed in that The Partnership is eager to help in that effort.
In discussing The Partnership's mission, Fulp said: "We work with corporations to show them the advantages of diversity." She noted that demographic trends indicate that there will be more people of color than Caucasians in the future. "Your marketplace is changing, so your businesses can't remain the same."
She pointed to some other advantages of the black experience in America: "We've had to overcome obstacles at an early age, so we can read a room. We can bring people together because we have been isolated."
"The beginning of change"
The upshot of the conversation and the Spotlight series was that "the city thinks of itself as making progress, but it's not that much," said Walker.
Said Fulp: "We couldn't even have had this discussion 15 years ago. … We were so polarized. But now we can, and this is the beginning of change."