Honoring the Values of Martin Luther King, Jr.
With bench dedication, students pledge "racism and hate end with us"
A group of Suffolk University students dedicated a bench in honor of Dr. Martin Luther King, Jr., with the hope of inspiring greater peace and acceptance in the city of Boston.
The Suffolk University Historical Society, in collaboration with the Black Student Union, brought students and faculty together to unveil the memorial bench on March 29 – one week before the 50th anniversary of King's assassination. It will serve as a place for quiet reflection on his life mission and values.
Bringing the community together
The event began with a stirring performance of "Lift Every Voice and Sing," commonly known as the Black National Anthem, by student Rebecca Zama. Historical Society President Nikolas Devincenzi served as master of ceremonies, opening an ongoing dialogue on equality in Boston and on campus – including an open mic session for students to share their experiences and goals.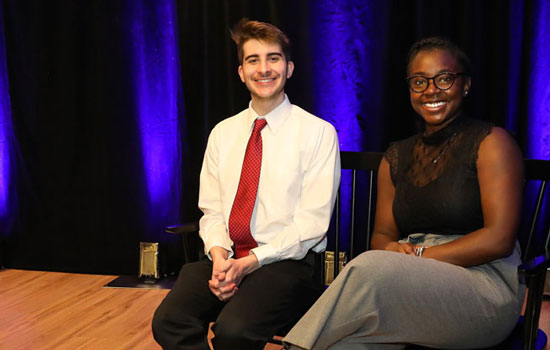 Citing Martin Luther King, Jr.'s famous quote that "the time is always right to do what is right," Devincenzi challenged attendees to "not just stand against inequality, but to actively fight against it.
Erin Theresa Fuller, one of the event's organizers, says the event was inspired by the Boston Globe's December 2017 Spotlight Team series looking at race and racism in Boston. Members of the Boston Globe's Spotlight Team and Boston business leaders will visit Suffolk on April 5, 2018, for a Ford Hall Forum discussion on "Confronting Racism and Disparities: What's Next?"
"We hope to be the generation that ends this way of thinking and acting," Fuller said. "Racism and hate end with us."
A pledge for equality
As part of the commemoration, people were encouraged to sign a pledge "to be devoted to the absolute demise of any and all racial intolerance" at Suffolk.
"As Suffolk University students and faculty, we will maintain the fundamental values that reject such hate, bigotry, and racism in our society," the acceptance contract reads.
Professor Lester Lee read remarks by President Marisa Kelly, who called King's message of equality and inclusion "an institutional imperative for Suffolk University."
"Never before have these values, values that sit at the core of this University, been more important," Kelly wrote.
Phyliss St-Hubert, president of Suffolk's Black Student Union, stressed the timeliness of the event and the importance of students' commitment.
"It seems like there are new incidents of racism and police brutality every day, which can be stressful and disheartening," says St-Hubert. "The words of Martin Luther King, Jr., are uplifting. They give us hope that we can achieve peace, if not in the world at large right now, at least in our Suffolk community."