Getting the MBTA on Track
Ideas for improvement pour out of students in "Building a Better T" class
Students are going full speed ahead with inventive ideas for improving the MBTA.
Their creative solutions to the transit system's most pressing problems are coming together through the Creativity & Innovation course Building a Better T.
After studying the T and other transit systems, working with interactive, data-rich maps, and visiting area transit stations, the students work in groups and on their own to create visual representations of their ideas as well as related writing.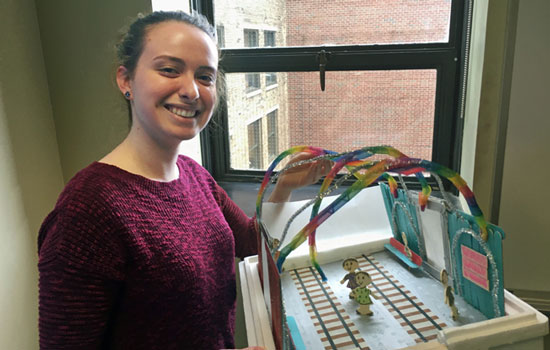 Envisioning a Seaport Station
Mike Forde, Class of 2021, focused on creating a new T station in the Seaport area of Boston that would be conveniently accessible from South Station. He designing a raised platform to combat the type of flooding that inundated the area during this winter's snowstorms.
"I came up with the idea because I thought there was a need for the MBTA to have a station in an up-and-coming location with new companies and restaurants moving in," he said
While working on his Seaport project he saw that "even the smallest idea can be the start of something big."
"I look forward to this class more than any other this semester," said Forde. "It's a lot of fun and has given me insight as I create my own ideas."
Video Puts Idea on Track
The Minecraft video game helped Ralph Cicone, Class of 2020, show his vision of a T station that includes dining and shopping areas and a below-level platform.
"I play the game all the time," said the computer science major. "When I started the project, I knew it would be a perfect fit."
Lifting Commuters' Moods
Classmate Cassidy Joudi built a model to represent her ideal train station – complete with bright colors, plenty of seating, and waiting area touch screens so passengers could play games, surf the Internet, and listen to music.
"I believe that adding these features would ensure passengers, who are the top priority, are happy and comfortable," said Joudi, Class of 2021. "I wanted them to have a better experience at the train station so that it would elevate their moods for the day."
"This class helps to develop skills that we will have to use throughout our lives," she said. "It helps you to think more critically about everyday situations. We are taught to consider the pros and cons of our ideas and those of others. I've developed a skill set that will be invaluable to me in all aspects of life."
Creativity and critical thinking
Suffolk's Creativity & Innovation courses encourage first-year students to take chances as they establish creative practices. These required courses are aimed at instilling flexibility in thinking so that students will explore new ideas without fearing failure.
"Students will walk away from this class with the ability to think creatively and critically and work to create team-based solutions," said Nick Frangipane, the course instructor. "They will be able to solve problems that they will encounter in their course work and in their future careers."
Social justice is another important element of the course.
"The MBTA is the circulatory system of our city, but it does more than help people get around," he said. "My students are looking for ways to make it function more equitably, so it can provide more opportunity and accessibility for everyone."