Bringing a Mobile Oasis to Bostons Food Deserts
Environmental studies graduate Nikki Erwin '17 has always been interested in sustainable urban agriculture and increasing access to healthy food for everyone. Erwin talked about how his work with Boston start-up Fresh Truck makes him a vital part of Boston's fresh food ecosystem:
Q: What is Fresh Truck?
A: Fresh Truck is a nonprofit company that partners with communities throughout Boston to bring healthy produce to underserved areas. We serve a very diverse population, from young families to the elderly. The majority of our clients are in low-income and minority communities where there can be fewer options to shop for fresh food.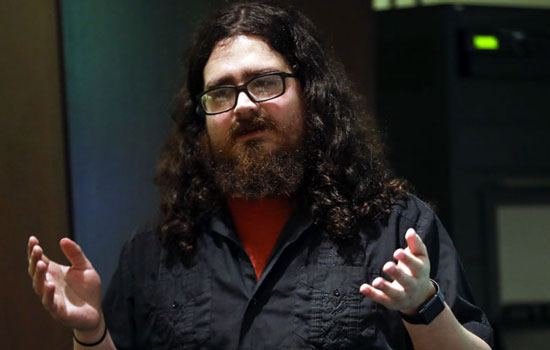 Q: Describe your role:
A: We have two buses that travel throughout the city to our mobile markets and pop up events. I manage daily operations for one of those buses, doing two or three markets every day. It's a small company, so we all have a hand in everything.
I customize inventory around what each community likes. For instance, in the South End we have a lot of Chinese customers, so I plan to have more of their high-demand products on hand like broccoli, bok choy, scallions, and citrus.
Q: Why did you choose Suffolk?
A: I knew I wanted to focus on food systems and sustainability, and a lot of the courses I took in the environmental studies program gave me opportunities to steer my education that way.
Q: It's not a straight line from your degree to your job. How does your work help make the world healthier and more sustainable?
A: I'm from L.A., and I lived in Berkeley, California, for a while, and we had robust farmers' markets. I've always been into gardening and cooking. I have great memories of sitting down to dinner every night with my family, and I believe that's important for physical and emotional health. Everyone should have access to that.
I've always been interested in urban agriculture and food systems to alleviate food access issues. At Suffolk, I did a service learning project helping a local urban farm harvest and sell produce at the farmers' market. I'd been passionate about urban food production, but that experience made me realize that you need to think about distribution, too. Fresh Truck has a novel approach to that problem.
Q: What's your typical day like?
A: I start the day by taking delivery of that day's food, load the bus, manage inventory, and then bring the mobile market to communities at risk for food insecurity. Once we get to the market I manage the volunteers and welcome people into the bus to shop. My typical work week is five or six days, 40-60 hours.
Q: What's your favorite part of the job?
A: It's very physical and involves a lot of problem-solving. There's a purpose behind what we're doing. It's a lot of work, but very rewarding.
Q: What's the biggest challenge?
A: Managing lines. Maintaining inventory can be tough because we have limited space on the bus. A lot of our employees are bilingual –I speak Spanish –but there can still be language barriers within a lot of the communities we serve. Winter can also be a challenge because we like to leave the doors open while people shop, but we don't want the food to freeze.
Q: What are you most proud of?
A: People are genuinely happy to see us. I always get thanked, every day, without fail. My favorite moment so far was when a seven- or eight-year-old kid thought we were an ice cream truck at first, but came in anyway and bought some bananas instead.
Q: Do you have any advice for students who want to make a difference?
A: It's easy to settle for something that's not exactly what you want. Don't give up on finding the perfect fit. If you don't find the perfect job – make it. Working for a start-up like Fresh Truck gives me confidence that I could start my own business someday.