Power Move
Christopher Villar has learned to find innovative solutions through his electrical engineering studies, and his creative thinking helped his team win second place in the Cuba Infrastructure Scholarship Competition this month in Miami.
Their project, Keeping Cuba's Lights on with Solar Power, "proposed the integration of solar panels with pre-existing wind turbines that are currently functional," said Villar, Class of 2019.
Villar, Roman Deyak, Suffolk Class of 2019, and Justin Bassett, a student at Benjamin Franklin Institute of Technology, competed against colleges and universities nationwide in the annual event sponsored by the Cuban-American Association of Civil Engineers and the Association of Cuban-American Engineers.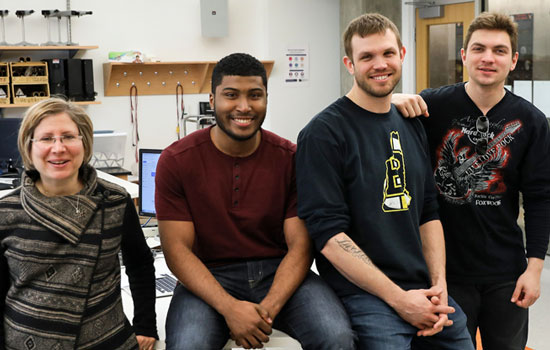 Simple Solutions
"At certain times, the best solution is the simplest, and that's something emphasized throughout the [electrical engineering] curriculum," said Villar. "When coming up with solutions, you cannot just think about the engineering design; you must also be aware of the economics of such projects.
"On an island like Cuba, land is limited, so we decided to come up with a solution to maximize land usage and produce the most energy per acre. With an available open field normally near the vicinity of wind turbines, you make the land more efficient by installing solar panels and generating extra energy."
Having both systems tied together effectively allows them to "pick up each others slack" during weather changes, said Villar, who presented for his team. His group's findings showed that Cuba has very high solar irradiance levels and is a great location for a large-scale photovoltaic power station.
Preparing the Case
The Suffolk team collected data and crunched numbers to reach their results, a process helped by the lessons learned in the Technical Communications course taught by Professor Lisa Shatz, chair of Suffolk's Engineering Department.
"The main advice Professor Shatz shared with us was to simplify all the technical jargon and present the information in an easy-to-read fashion," said Villar. "We also learned from her the importance of knowing our audience while putting our proposal together.
"She gave us the opportunity to make a presentation in front of one of her classes prior to the actual competition. That, along with providing us with constant feedback throughout the whole submission process, was very helpful."
Practical Approach
"I thought Chris' team would be one of the winning entries," said Shatz. "The proposal they submitted was well thought-out, well written, and practical. For example, they chose an area for a solar farm next to an area with a wind farm, allowing the use of the infrastructure that is already in place."
Shatz was impressed with how well prepared her students were when it came to answering the judges' questions.
"For instance, when asked about other sources of energy, Justin Bassett mentioned sugar cane, which is also a huge resource for Cuba," she said.
Villar hopes to pursue a career in engineering, a field he sees "constantly evolving" as newer technologies enter the market.
"This allows for so much possibility for creating things and learning in the process," he said.