Bipartisan Lessons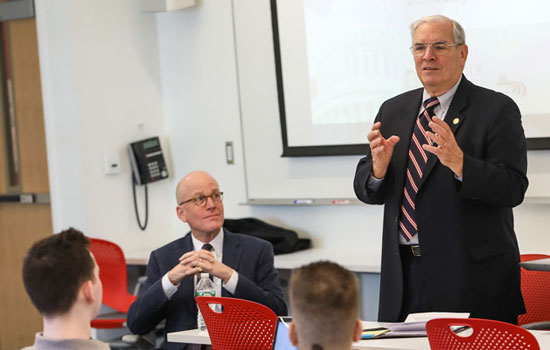 Government class takes on particular significance when it is taught by former congressmen from both sides of the political aisle, and students took the opportunity to explore current issues with two retired House members who visited this week as part of the Congress to Campus program.
Former U.S. Reps. Joe Hoeffel, a Democrat who represented Pennsylvania from 1999-2005, and Steven T. Kuykendall, a Republican who represented California from 1999-2001, talked about how they began their political careers, what it took to run their own campaigns, and effective ways to serve as a moderate member of a political party. Both stressed the importance of authenticity and being true to yourself.
"I enjoyed hearing the insight of their political experiences and having the opportunity of picking their brains," said Cameron Burton, Class of 2020, a government major. One takeaway from the Kuykendall-Hoeffel visit to his classroom: Serving in Congress and representing a major political party "is a lot harder than most people would think."
"Watching our students engage with public servants is always one of the highlights of the academic year," said Professor Rachael Cobb, chair of the Government Department. "What makes this program so special is that students get lots of opportunities to engage with the former members in small group settings.
"During these visits students learn that the people who serve in Congress are regular people. They learn that holding public office can be honorable. Even in these divisive times, hope for the future is high because of their belief in the next generation of leaders."