Award-Winning Hollywood Producer Reviews Students' Screenplays
"Everyone was sharing opinions and discussing ideas. It gave us a taste of what it feels like to be in a writers' room." —Marcus Jimenez
It isn't every day that a first-time screenwriter gets to have one of Hollywood's leading producers review her screenplay.
Yet Adriana Lucia Zuniga-Acevedo seized that opportunity through a screenwriters' workshop held on campus with David Hoberman, founder of Mandeville Films and Television.
"The fact that he took time out of his crazy schedule to read my words was really satisfying," said Zuniga-Acevedo, Class of 2018.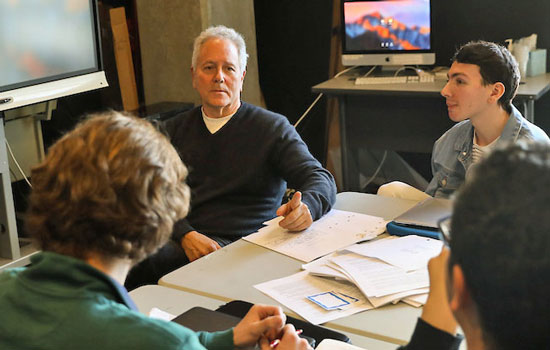 Hoberman, whose many producing credits include locally filmed The Fighter and Stronger, traveled across the country to share his expertise with aspiring Suffolk student filmmakers as part of the two-day workshop.
"I like teaching," he said. "If I can impart the years of my knowledge to help students as screenwriters, that's a great thing to do."
Hoberman focused his lessons on the basic screenwriting principles, and he noted that it takes an "intrinsic talent" to become a good screenwriter.
"It takes someone who knows how to tell a clear story, is passionate about the story, and understands fully the characters he or she is writing about," he said. "I'm here to help the students with that process."
Individual attention
Students submitted short screenplays in applying for the workshop, and Hoberman reviewed each script, making notes and comments on the writing.
"He said that I have an authentic story, which makes it powerful, and that my writing is good," said Zuniga-Acevedo, whose plot involves a love story, a failed marriage, and the struggles of being an immigrant in America. "He gave me confidence that I can become a better writer."
Hoberman advises students hoping to become professional screenwriters to "read great screenplays by Academy-Award-winning writers" and to continually practice their craft.
"Like the line in the Danny Devito movie, Throw Momma from the Train: 'Writers write,'" he said with a laugh.
On the same page
In advance of his visit, Hoberman asked students to read three film and television scripts he provided. They were instructed to analyze and offer feedback on the scripts, and Hoberman compared their responses with his own.
Students shared their candid opinions, and in several instances, they found they were in agreement with Hoberman.
Marcus Jimenez, a media studies major, described the workshop as an invigorating learning experience.
"When we started discussing the scripts, you could feel the energy in the room," said Jimenez, Class of 2019. "Everyone was sharing opinions and discussing ideas. It gave us a taste of what it feels like to be in a writers' room, and it was honestly one of the best experiences I've ever had as a student."
An inside look at Hollywood
Professor and Theatre Department Chair Marilyn Plotkins was impressed with how Hoberman and the students engaged in meaningful discussions about the screenwriting process and the culture of the business.
"David Hoberman encouraged questions about the film industry and his own career and answered with lots of wonderful stories and remarkable candor," said Plotkins.
The next step will be for the students—who are majors in Theatre, Media & Film, Communication & Journalism, and English—to develop their screenplays into full-length feature film scripts with guidance from Jean-Paul DiSciscio, a professional filmmaker in residence at Suffolk. Their scripts then will be sent on to Hollywood for full feedback from Mandeville staff.