Film Follows Soccer Superfan's Path from Nepal to Suffolk University
Devarth Dixit's journey from Nepal to Suffolk University in a quest to become a professional soccer announcer is the inspiration for a promising entry in the NESN Next Producer student film competition.
Suffolk students David Apostolides and Matt Brown created Goli, a film that takes its name from Dixit's term for soccer when he first fell in love with the game at age 4.
Goli is one of 12 finalists in this year's NESN competition, which showcases New England college filmmakers' short sports films. Apostolides and Brown, both Class of 2018, could walk away with a $20,000 prize and a job opportunity at the sports television network if they come out on top, based on viewers' votes.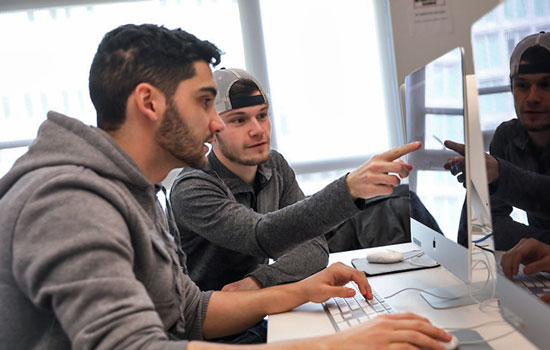 Filmmakers introduce their short subject
It was the many soccer jerseys adorning roommate Dixit's bedroom that gave Apostolides the idea for the film.
"That's when featuring Devarth kind of clicked," he said.
The film begins with a focus on how Devarth's passion for soccer helped ease his transition into a new culture at Suffolk and in Boston.
"We then show how Devarth is realizing his dream of getting a college education and being a successful part of the Suffolk community," said Apostolides.
Ultimate goal
"He loves soccer so much that he wants to use his broadcast journalism degree to hopefully announce a game someday for Manchester United, his favorite pro team," said Apostolides.
It wasn't the first time a roommate inspired an Apostolides film. A year ago he and JJ Moran made the final NESN dozen with a film about a former roommate whose injuries kept him from a promising career in Rams baseball. Meanwhile, Brown won honorable mention last year for a film he made with classmates Joey Ambose, and Stefan Jandrisevits.
Working in harmony
Brown and Apostolides decided to work together for the 2018 competition. The two communication and journalism majors interviewed Dixit and shot video of him playing soccer with friends on the beach and walking around the Suffolk campus. They collaborated on the writing and edited the film together in the Suffolk media lab.
"We tried give the audience a feel about Devarth's new life as a Suffolk student while transitioning from Nepal to America," said Brown, who is working as an assistant director at Channel 7 this semester.
"David and I have different experiences making short films, but we really complemented each other on this project from beginning to end. Once we got into it, everything just came together."
Gaining filmmaking experience
Apostolides said the NESN opportunity is valuable as he works to "get as much experience as possible" before embarking on a professional filmmaking career after graduation.
"It's awesome to start with nothing and go through all the steps and come up with a final product," he said. "I love visual storytelling and the rewarding feeling you get when creating a film for somebody else."
Goli will air at 4 p.m. Saturday, March 17, on NESN, immediately following the Boston Red Sox-Tampa Bay Rays spring training game, a month into NESN's Next Producer-Season 3, which launches at 8:30 pm Saturday, Feb. 17.
The weekly series will feature two student-produced films and back stories on the filmmakers during each of six episodes. Viewers can watch and vote for their favorite sports short films on NESN's website
Contact
Office of Public Affairs
617-573-8428