Attorney's Clients Bring Their Pet Peeves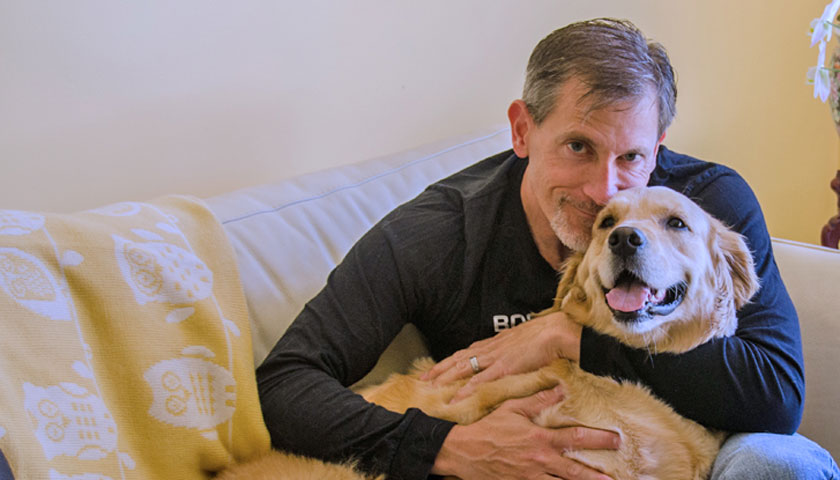 When many of your clients literally bark back at you, have names like Bandit and Diesel, and walk around on four legs, every day is an adventure.
Welcome to the dog-eat-dog world of Jeremy Cohen – pet attorney. Cohen is the founder of Boston Dog Lawyers in Beverly, the first law firm in Massachusetts dedicated to pets and their owners.
Nationwide impact
"In the past two years we have received more than 500 calls from pet parents around the country," said Cohen, a Suffolk University Law School alumnus, Class of 1995. "This involves all sorts of pets and so many varied issues that no two days are the same."
Cohen and his firm have represented clients in pet custody conflicts, dangerous-dog hearings, dog-bite lawsuit defenses, emotional-support-animal arguments, and wrongful pet death or injury.
"The volume of cases for us continues to grow," said Cohen. "The need is something I never envisioned a couple of years ago."Legal inspiratio
Cohen comes from a family of lawyers. His dad, Martin, JD '75, his older brother, Adam, JD '91, and sister-in-law Gina, JD '90, are all Suffolk Law graduates. While Cohen followed their paths, he wasn't totally convinced that he wanted to become an attorney until he took a "Consumer Law" course taught by Professor Dwight Golann
"That was the turning point for me," said Cohen. "It exposed me to a part of law where people were not treated properly as consumers. I learned how important it is to advocate for people who might not know how to advocate for themselves or have the courage to do so.
"After taking that class, I said to myself, 'I can do this and I will do this.' It reminded me of why I wanted to become a lawyer from the beginning, to protect individuals from bullies."
Consumer rights
Cohen recalls Golann's in-class discussions of cases he was working on as a lawyer.
"He showed me a way to believe in consumer rights and how to make sure that the consumer's voice is heard," he said.
Cohen's newfound interest led to an internship at the Governor's Office of Consumer Affairs, procured with help from the Law School's career development team. He answered phone calls from the general public about a wide range of consumer issues, an experience that would come in handy once he began practicing law.
"It was the perfect opportunity for me, because I was dealing with real-life calls about real-life situations that I could relate to," he said.
Cohen began his law career working in the insurance industry. He was manager of global claims for the General Electric Company before founding a general-practice law firm in 2007. He sold that firm in 2014 and opened Boston Dog Lawyers one year later.
Town vs. dog
His first case will always be memorable because it hit so close to home. It involved Jesse, a German shepherd owned by his stepchildren's dad. Jesse was accused of causing havoc throughout the town of Marblehead.
A hearing was called before the town's selectmen, and 30 people showed up. Said Cohen: "They all wanted to see Jesse killed."
The selectmen ordered the dog euthanized, but Cohen was victorious on appeal, and the dog's life was spared.
Battling the "bully"
"I found I was going up against the bully for a client that couldn't speak for himself," said Cohen. "I felt that energy again from my consumer law days, and I've been on a mission ever since.
"I did what Suffolk taught me to do – to submerge myself in a topic, dangerous dogs – and emerged knowing everything about it. It was such a confidence builder. Fighting for Jesse brought the entire family close together very quickly."
Cohen has been featured on local and national television news. He is a regular guest on WBZ radio with Dan Rea and a columnist for Simply Pets magazine. He has spoken at Boston-area high school and law schools, and he has 10.000 Facebook followers.
Today Cohen's firm is developing affiliates in other states and has a long-term goal of providing legal services for pet owners nationwide.
"I feel like a new lawyer," he said. "After all these years, I've finally found an outlet for my energy in the legal field. It's nothing I ever planned for, but something Suffolk definitely prepared me for."
Contact
Office of Public Affairs
617-573-8428