Haitian American Alumnus Responds to Presidents Disparaging Comments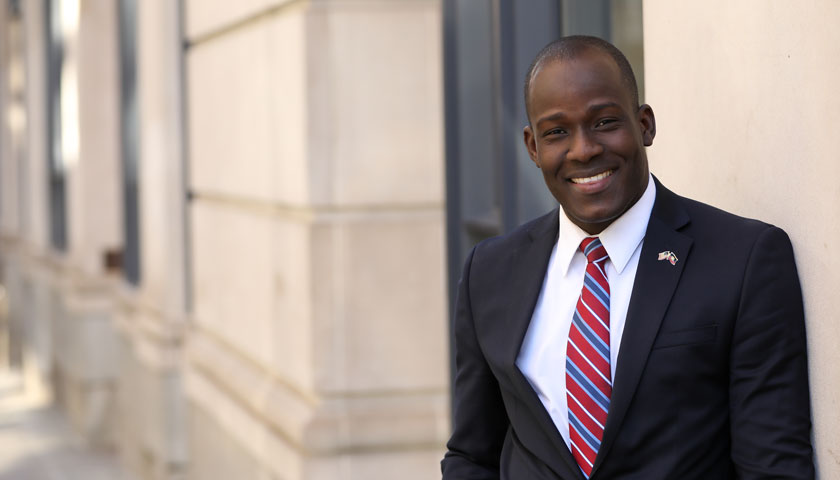 Suffolk University alumnus Jean Bradley Derenoncourt '17 usually spends January 12 on his own, quietly mourning the devastating Haitian earthquake that changed the course of his life. This year comments attributed to President Trump made quiet reflection impossible.
Derenoncourt became an American citizen in 2016 -- but he remains proud of his Haitian roots and grateful that his role as newly-elected Brockton city councilor allows him to "live the American dream" by making positive change in his community. Derenoncourt recently spoke to The Washington Post about his anguish over President Trump's reported denigration of Haiti, El Salvador, and African Nations, telling the paper "my blood is boiling" over those comments. He also shared his pain with the Boston Herald, insisting "this country is better than that." And he offered his perspective and advice for the Suffolk community.
Q: How did you feel when you first heard those comments?
A: I was shocked and terrified. Hearing those words coming from the president of this country was unbelievable.
It comes at a very difficult time for me. In 2010 at this moment we lost so many people in the earthquake. I lost one of my good friends. My goal was just to go home and sit down and think about what happened eight years ago, but instead I have to think about what Trump said.
Q: How do you reconcile those comments with the U.S. you know?
A: This country is an amazing place, and what makes this country so great is that it's not just one group of people. Immigration is the basic foundation of the country. As an immigrant, it's been an amazing experience learning to speak the language and talk to people. Going to Suffolk University, I met people from all over the world which is a great experience.
As a Haitian American myself, I know the history of this country and also the history of Haiti. Being able to understand both countries' history helps me to understand that just because someone says something doesn't mean it's true.
Q: What should people know about Haitian people and culture?
A: The Haitian people are resilient. They are courageous. They are good people, very caring, open-minded, and not lazy. They're willing to share whatever they have. We stand up for what we believe in. History proves that -- we were the first black independent nation in the world. We are all about justice and fairness. We don't have a sense of entitlement.
I'm talking about the Haitian people, not the Haitian government. There's a big difference.
Q: You were recently sworn in as City Councilor At-Large for the City of Brockton. Did your experience as an immigrant influence your decision to run?
A: Yes, and also the education I received in this country inspired me to run. The Haitian people are strong people, and all our parents want is for us to get an education and do better than themselves.
Q: In Brockton you represent a diverse community of many backgrounds, including many immigrants. How do you work to unite rather than divide?
A: I never approach anybody based on their appearance -- their race or color. I don't make any assumptions about how people will react to me based on that. I go and ask questions. I represent the entire city so my job is to unify everybody. When it comes to looking at issues, I see the city as a whole. I am proud of where I come from, but I don't want to be [labeled as] "the Haitian guy" or "the black guy." I want people to see me as a human being, and I think that's what everyone wants.
Q: How can students be part of positive change moving forward, channeling outrage into action?
A: Focus on your studies. Be open-minded. You will probably come across people who have views [you disagree with]. It can be tough to debate those issues in class. If somebody says something stupid, challenge it. Stick to facts and explain your points. One of the best things you can do is to look for the truth. It's all about fairness, justice, and respect.
Remember that money is not the most important thing in life. When you give someone your word, and your handshake, stand with them. Once you lose your reputation that's it.
You have to be courageous. This world is not an easy place. Find out where you stand. Do you want to be on the side of history or the side of foolishness? If you see something you don't like work to change it in a peaceful way.