Coaching the Dream Team
Students learn the value of collaboration for meeting business challenges.
Every successful venture today is based on effective teamwork, according to Domenic Kalil, who challenges his students to employ teamwork as they think creatively, acquire leadership skills, and solve real-life business situations.
Kalil's Creativity & Innovation course, "Creating the Dream Team," engages students in pivotal team-building skills as they master the eight C's—critical thinking, communication, collaboration, creativity, commitment, courtesy, community, and confidence—that are essential for success in business and in life.
Commitment to teammates
"The biggest challenge is making students realize that the whole class is one big Suffolk University 'Dream Team,'" said Kalil, who is on the faculty of the Sawyer Business School's Center for Entrepreneurship. "They have to be committed to each other throughout the semester, never leaving any teammate stranded."
Each student has an opportunity to be a team leader, as well as a team player. The teams address business challenges, such as creating a baking company; building a business involving drones; starting a campus bistro; and developing a T-shirt company using 3D printing.
The course emphasizes teamwork in brainstorming, research, data collection, and information analysis.
Suffolk's Creativity & Innovation courses encourage first-year students to take chances as they establish creative practices. These required courses are aimed at instilling flexibility in thinking so that students will explore new ideas without fearing failure
Ready to tackle any challenge
Makena Couture, Class of 2020, a Management major, was "skeptical of what I might learn and unsure of myself" when she began the course, but her attitude soon changed.
"I can proudly say that with the knowledge and confidence that I've gained, I can conquer any challenge that comes my way," she said. "I learned that when working in a team you need to blend your ideas and style with the ideas and styles of other people. In business, there are many personalities and everyone has to respect each other."
Couture aims to take the skills she learned in the "Dream Team" course and apply them in her other classes.
Real-world business skills
Entrepreneurship major Bruce Sterling Benkhart II, Class of 2020, described the course as "one of the best academic experiences of my life," as it allowed him to learn real-world business skills, including creativity, analytical problem-solving, and time management.
"It gave me a platform to showcase my skillset as well as learning to hone those skills," he said. "The course was challenging, dynamic, and fun. It was a real motivator working on something extremely practical to my major."
Ready to lead—and to support
As they wrapped up the course, students submitted an eight-page paper reflecting on their team leadership and a four-minute video, created with two teammates, explaining their roles as team players.
The students also worked in larger "dream teams" to produce multimedia presentations focused on creating an eco-friendly app to compare green products or an app that promotes world peace.
The course title comes from the 1992 U.S. men's Olympic basketball "Dream Team," which featured superstars Larry Bird, Michael Jordan, and Magic Johnson working together on the court to win gold in Barcelona.
"When students leave my course, they have gained the basic knowledge needed to team up and create a startup company," said Kalil, who wears his trademark fedora and is affectionately known by his students as "Prof. Dom." "They have also acquired the necessary leadership skills built around helping, sharing, giving, and respecting others."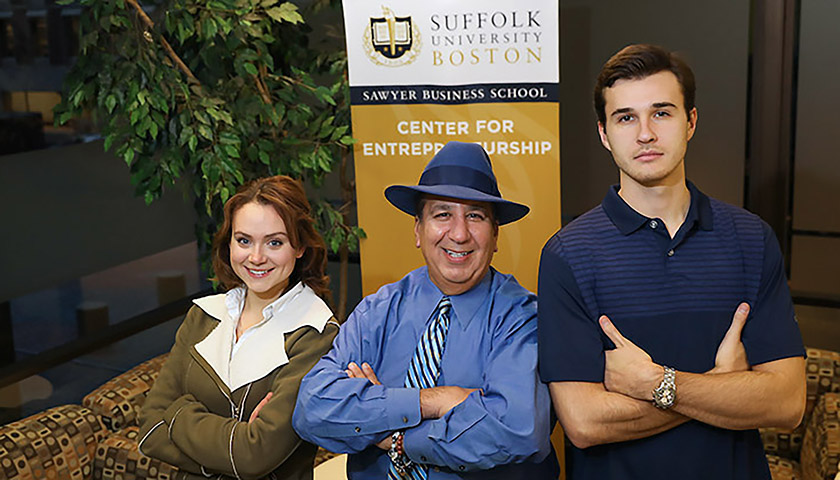 Contact
Office of Public Affairs
617-573-8428