Children of Consequence
Alumna's multimedia celebration of black boys and girls wins SPARK Boston Impact Award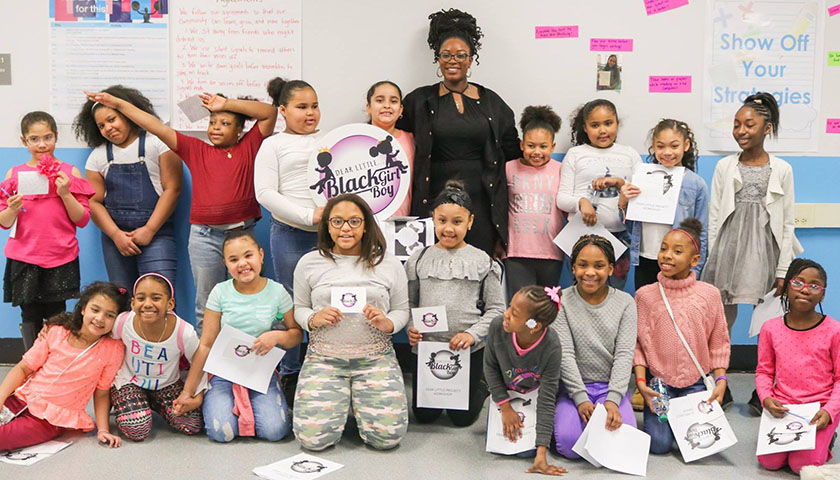 Suffolk alumna Crystal Chandler not only can tell a good story – she can impact the lives of others in the telling.
Her latest multimedia production, Dear Little Project, which shows black children that they are "gifts to the world," captured first place in the arts and culture category of the 2018 SPARK Boston Impact Awards.
"The goal of my project is to empower the little black boys and girls in our lives and the ones that live inside of us," said Chandler, BA '15.
Countering negativity
Her video series and photo exhibit were inspired by the poems "Dear Black Boy" and "Dear Black Girl" by Derryck Patton. And Chandler's motivation stemmed in part from her belief that people of color are too often negatively reflected in the media, which she feels can directly affect young people in numerous ways.
"This project seeks to identify how to recognize negative messages and counteract them with positive reinforcement and affirmations that can boost self-esteem," she said.
The award-winning project brought together around 150 people from Greater Boston. Many of the adults involved had never been in front of a camera before, and most of the children found themselves in a television studio for the first time.
Media production company
The production introduced a lot of different black communities to community media and its accessibility," said Chandler, executive director/producer of The Crystal Lens, a small media-production company that promotes social justice issues.
Chandler's productions rely on skills first developed while a broadcast journalism major at Suffolk University, where communication and journalism professors challenged her to excel and took the time to give detailed and pointed feedback on every assignment.
One of her fondest college memories was covering President Barack Obama speech at the dedication of the Edward M. Kennedy Institute for the student-run Temple Street TV show.
"I now use the journalistic research skills, camera presence, and voice training that I learned as a Suffolk student," said Chandler, whose media company employs Suffolk alumni Breyanna Vass, BS '16, and Shavanae Anderson, BA '17.Jason Carter, Suffolk's director of video production and broadcast/media facilities, describes Chandler as talented, hardworking, passionate, and a "role model" when he had her in class.
Inspiration to peers
"She elevated the work of everyone, not only because they had to compete with her, but also because they saw through her that they could do better," said Carter.
The annual SPARK Boston Impact Awards, supported by Boston Mayor Martin J. Walsh, spotlights young adults' efforts to improve the city, and Chandler is working on a proposal to create a workshop on her award-winning production to be presented to schools, youth centers, churches and other community hubs. She already has shared her "Dear Little Project" with the executive board of Suffolk's Black Student Union.
"I will take the project wherever I can touch the lives of those who need to see and hear its message," she said.