Oh Say, Did You Hear?
Suffolk student wows Fenway crowd with her rendition of the national anthem.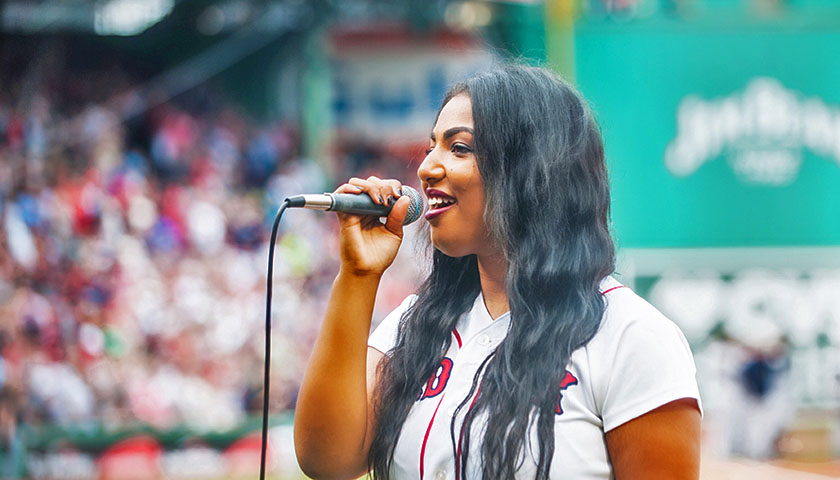 Being held spellbound by the national anthem singer: That's what Rebecca Zama remembers most from attending sporting events when she was a child.
"I wanted to be that person," said Zama, Class of 2019.
Zama had her dream come true when she sang The Star-Spangled Banner on one of the biggest stages she could ever imagine – a weekend Red Sox-Yankees game before a sellout crowd of more than 37,000 at Fenway Park.
"It was an amazing experience and a moment I will never forget," she said.
A Red Sox entertainment official saw Zama perform at a musical showcase and invited her to sing the national anthem before a recent clash of the longtime major-league rivals. Zama jumped at the opportunity.
Crowd-Pleaser
Just before the command to "Play ball" rang out on a late-summer Saturday afternoon, Zama stood by home plate sporting a David Ortiz jersey, black jeans, and gold high heels. She recalls feeling comfortable and assured because "I'm very connected when singing."
This despite the echo that bounces back to singers performing in a stadium; Zama could hear her voice returning to her on a two-second delay.
"It's distracting, but you just push through it," said Zama, who received a thunderous ovation from the Fenway faithful.
On Campus Stage
Zama has demonstrated her singing prowess at Suffolk as a member of Soulfully Versed, an a cappella group supported by the Performing Arts Office.
Performing with the student singers was "my first time singing with a group in a long time, and it was great being around a diverse group of music lovers," she said. "It helped improve my ear and harmonies and expose me to new music arrangement styles."
Zama, a government major whose ultimate career goal is to become an international diplomat, also is active in Suffolk's Black Student Union and Caribbean Student Network. These clubs enable her to share her perspective on culture and politics specific to the Caribbean and black communities.
"I am thankful to be in an environment in which I am surrounded by passionate, creative, and driven people who share a similar goal—to effect positive change in the world," she said.
International Advocate
Zama is also engaged in humanitarian efforts as executive director of the Haiti Global Youth Partnership, Inc., a non-profit organization her family founded to support education, access to clean water, and agricultural development in L'Asile, an area of nearly 40,000 people in the south of Haiti.
Zama's responsibilities include coordinating programs, community outreach, organizing fundraisers, recruiting volunteers, and grant writing.
"We are extremely proud of all that Rebecca has achieved on campus, in her professional music career, and in her support for the people of Haiti," said Kathy Maloney, associate director in the Performing Arts Office. "Her commitment to her community and to raising awareness while sharing her singing talents is just one of the things that makes her stand out as a student and an artist."
Active college student. Singer and songwriter. International human service advocate. Rebecca Zama juggles many roles and appreciates that the University gives her the flexibility to accomplish so much in so many areas.
"At Suffolk, I have met people who have inspired and motivated me to keep going in all that I do," she said. The faculty have been extremely supportive, and it is uplifting to feel that my professors want to see me succeed as much as possible."
Contact
Office of Public Affairs
617-573-8428