Internship in the EU Parliament gives grad student an outsider's perspective on U.S. politics
Joshua Weissman LaFrance compares the European Union Parliament to the International Space Station: It's a hive of activity, populated by a multicultural delegation of brilliant people with a shared purpose. It's very far from home. It feels like the future.
For the Public Administration/Political Science graduate student, a summer spent in the EU Parliament provided more than hands-on policy experience – it also intensified his interest in international relations, which, paradoxically, will lead him to pursue a career back home in the states.
Catching the International "Bug"
When Weissman LaFrance began pursuing his undergraduate government degree at Suffolk he intended to work as a policy analyst in a think tank, but an experience at the University's Madrid campus altered his course.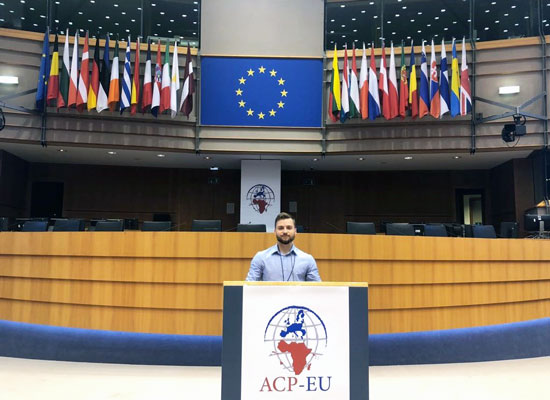 "The semester I spent in Madrid traveling and learning about different cultures for the first time opened up new possibilities," he says. "Suffolk makes it easy to take that first step. After that, I knew I wanted more, so I applied to the graduate program specifically to take advantage of the internship in Brussels."
That program -- which paired four Suffolk graduate students with internship opportunities in the EU Parliament and Non-governmental Organizations in Brussels this summer— is relatively new, says Government Professor Christina Kulich-Vamvakas.
"This is the second summer we've sent students to Brussels, and it's been an enormous success," she says. "For some, it's their first experience abroad. It's an unparalleled opportunity to experience European life and politics from the inside, not as a tourist."
An Outsider's View
Weissman LaFrance worked as a trainee in the office of Roberta Metsola, a Member of the European Parliament representing Malta.
"I had actually visited Malta during my semester in Madrid, so that gave me a little more background," he says.
In a hectic and fast-paced environment, he helped prepare briefing notes for meetings with EU officials, compiled updates on the state of affairs in the United States, attended meetings and committee hearings, and wrote reports.
"Within the EU Parliament, I could engage in a hands-on way with issues that were also at the forefront in the U.S., like the immigration crisis. It was a unique opportunity to understand what's happening in the U.S. from the outside," he says.
The Suffolk students' time in Brussels coincided with a number of tense international events, including the NATO and G7 summits, says Kulich-Vamvakas.
Weissman LaFrance didn't meet many other Americans during his time in Brussels and his friends there represented at least nine countries and five continents – so he felt compelled to act as an ambassador for the United States.
"As an American, I got a lot of questions about Trump," he says. "But I realized I had an opportunity to represent myself and the U.S. as something positive."
Perspective and Problem-solving
The EU Parliament exposed Weissman LaFrance to a range of languages and cultures, and he saw more clearly how their backgrounds and experiences inform people's perspectives and how they approach problems.
"Understanding people's differences and what connects us is essential to making things work in a diverse environment," he says. "What I appreciated most about EU politics is that they are pragmatic and solution-oriented. The U.S. is more ideology-driven."
At the end of the summer, he and fellow Suffolk graduate student Yash Patel were named Emerging Scholars and invited to present their research on Euroskepticism at the Global Studies Research Network's annual conference in Granada, Spain. Their work analyzed more than 25 years of national election data from EU members, opening up a dialogue on strains to EU unity over time. It was another opportunity to connect with scholars from around the globe to discuss the issues that arise when diverse nations work together.
Now back at work as a planning and administrative intern at Boston's Metropolitan Area Planning Council, Weissman LaFrance already is applying the lessons he's learned.
"Anytime I see a global idea that could have applications here I push it forward. There are so many creative ideas from all over the world. It would be a disservice to ourselves not to explore them," he says.
"We all want to be the one who came up with the great idea, but we should be open to good solutions wherever they come from."
Next Steps, Closer to Home
"Suffolk students don't see a problem and say 'someone should fix this' -- they ask 'what can we do?'" says Kulich-Vamvakas. "Programs like the EU Internship show the way forward for tackling these complex international issues. Where before it might have seemed like an unbridgeable distance, now they know the path."
For Weissman LaFrance, that path leads back home. He intends to bring his global perspective and problem-solving orientation to issues in the United States where he can have a direct impact on people's lives through political organizing activities or in city management.
"Watching U.S. politics from Brussels, the family separations, I felt sick," he said. "I felt compelled to be in the U.S. again, working to solve problems. Migrant issues are something I care about and was working on in the EU Parliament, and seeing it unfold at home was extreme and amplified by the distance."
"You have to be here to make a difference."