'The Mirror Revealed: Stories Told'
Fall exhibit at the Suffolk University Gallery features six artists working in an array of media.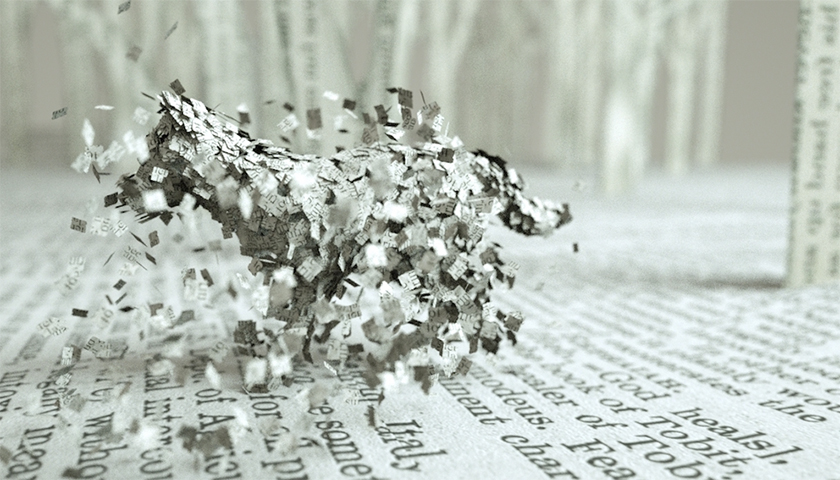 The Suffolk University Gallery opens its fall exhibition season with The Mirror Revealed: Stories Told, running from September 10 – October 19.
The six artists in the exhibit answer the following questions in myriad ways through their work.
Why do we need stories as a species?
How do these stories in the form of myths, fairytales, and folktales reflect on our current cultural conditions, as they have for centuries?
Why do these archetypes continue to resonate?
How do similar narratives cross cultures?
How do we tell these stories to ourselves?
How are our real lives and stories mingled with our online presences and relationships?
The artists
In her animation Every Two Minutes, Catriona Baker updates the story of Little Red Riding Hood as a cautionary tale of sexual assault, alluding also to the earlier, more disturbing versions of this story.
Andrea Dezso's delicate ink-drawing vignettes, as well as her cut-paper tunnel books, illuminate scenes from the Brothers Grimm tales through the interplay of darkness and light.
Anne Eder's artifacts, books, and hand-made photographs are forged at the intersection where the natural world meets the narrative impulse.
Dan Estabrook's evocative story-infused images use photographic techniques and processes of the 19th century, with forays into sculpture, painting, and drawing.
In her Gardening At Night series, photographer Cig Harvey takes on the outsized themes of home, family, nature, and time.
Game designer Terrasa Ulm's installation Ordination, references the relationship between avatar and self and how we define ourselves visually in a controlled presentation of identity.
Reception and related programming
Reception: 5:30 – 7:30 p.m Thursday, September 20
Gallery Talk: 6 p.m.
Artists respond to the questions guiding the exhibit
Screening and discussion – The History of Fairytales
12:30 – 1:15 p.m. Thursday, September 27
Bestselling English author, vlogger, and fairytale expert Jen Campbell created two short videos specifically for the exhibit.
Pizza and refreshments will be available
Ongoing
Stories Learning Station
Visitors may explore links to a vast array of information, videos, articles, and stories related to the theme of the exhibit.