They're #1
Suffolk MBA students come out on top in global corporate simulation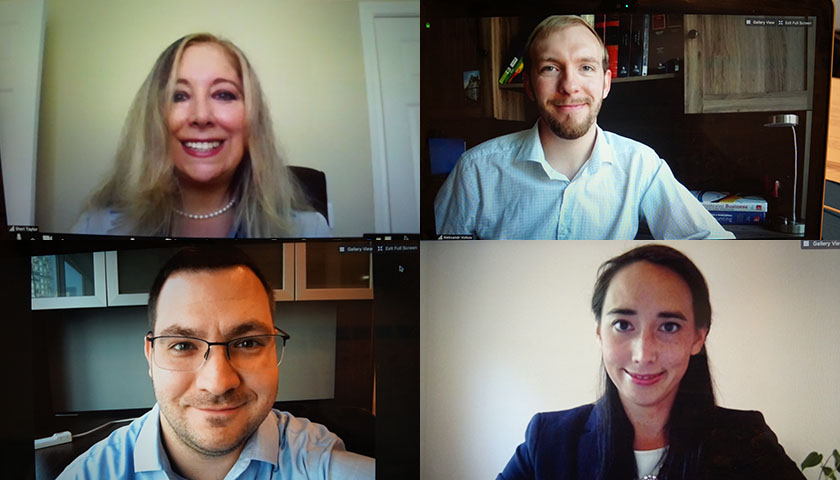 Imagine suddenly being put in charge of a $100 million multinational firm that's one of the most successful sensor manufacturers in the world. From day one, you and your team have to make hundreds of decisions that will affect profit, stock price, internal sales, marketing, and everything else that contributes to the success—or failure—of a business.
It happened to four Suffolk MBA students this past summer with a (virtual) company called Erie.
As part of their online "World Class Strategies" course, the students competed against other teams in their class as well as 683 teams from other business schools around the world to see who could be the most successful running a simulated business. The big news? They bested all the other teams.
Using a sophisticated platform called Capstone, each team started with the same basic $100 million dollar company. Then over the course of six weeks—one week for every year of business—each team had to make complex management decisions about hundreds of variables across all sectors of their companies: production, marketing, accounting, R&D, sales, and financing. Everything was in play, and, as students quickly learned, everything was interrelated. Spend too much on research and there might not be enough for marketing. Invest too little on assembly lines and distribution could bog down.
"I found it very interesting to work with the different parts of a company and really see how one decision affects the whole," says Sheri Taylor, MBA '19, one of Erie's four executives. "For example, we invested a lot in marketing, and that kept our visibility high. And we utilized as much capacity as possible, and that resulted in high sales."
By the end of the six-week competition, Erie was pretty much at the top of the heap, not just in the Suffolk class but among all the teams around the world.
The student-run company's stock price was #1, more than $80 per share higher than the next company. Erie was #3 in cumulative profit and #4 in return on sales. Even more impressive, on the students' balance scorecard, which measures not just financials but gives an overall snapshot of a company, they had a consistent percentage increase each week, ending the simulation in the 99th percentile among the 683 companies.
The key to the team's success? Communication and commitment.
"It was definitely a team effort," says Martin Zuk, MBA '18. "We put in a lot of hours. And we made sure that everything we did, we did as a team."
What made it even more remarkable is that throughout the entire six weeks, the team never met in person. They weren't even in the same country. All their meetings happened and their business decisions were made via Skype and Google hangouts.
Like the real thing
It's tempting to think Capstone is just a big video game and that all students need to do is figure out which buttons to push to "win." But it's way more complicated than that, and it relies on the classroom experience as well.
"If we just leave this as a game and all they need to do is figure out the bells and whistles, it wouldn't be much of a learning experience," says Professor Omer Gokalp. "What we want is for the experiential component to reflect their classroom learning."
In fact, for many students, Capstone can be as robust a learning experience as working in a real company.
"The simulations give students one crucial benefit that other 'real' experiences can't," continues Gokalp. "Students see all the decisions one needs to make to run a company successfully, not just from one angle."
While it was satisfying to grow their stock and become magnates of a fantasy empire, the four students learned a lot that they can take with them into the real world.
"My 'a-ha' moment was when I actually felt that Erie was a company, not just a game," says Aleks Volkov, MBA/JD '20. "That was the best time for me."
The fourth member of Erie's management team echoed the thought. "It was really cool just to see the simulation and really feel as if you're managing a particular department and really working with each other," says Sara Tasney, MBA '18.
Needless to say, team members were thrilled with their results. And they weren't the only ones.
"Even the people who run Capstone were amazed with the decisions this team made," says Gokalp. "Even in the last round when Erie was clearly the winner, the team pushed hard and increased its sales by 25 percent."
Contact
Greg Gatlin
Office of Public Affairs
617-573-8428
Ben Hall
Office of Public Affairs
617-573-8092