Learning from a Healthcare Expert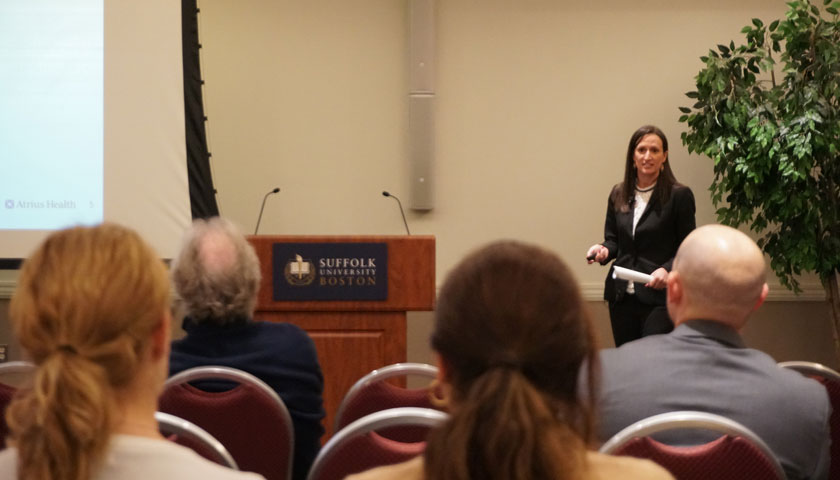 Rachel Rosenblum brought her vast experience and perspective about the "real world" of health care to Master of Healthcare Administration (MHA) students, faculty, and alumni this year as the distinguished guest lecturer in the Healthcare Administration Program. Rosenblum gave a talk describing changing healthcare trends and offering examples of the ways Atrius Health is working to transform care and thus improve lives.
Patients are much more engaged in their health care than in the past, according to Rosenblum. They're researching on the internet. They're asking questions in the exam room and through health portals. They're wearing devices and sharing data with their providers.
"Healthcare of the future is not just about a patient and a physician in a bricks-and-mortar facility," said Rosenblum. "It's about activated patients engaged in their care inside and outside the exam room. It's about using technology to support communication between visits. It's increasingly also about the use of social networks to help support behavior changes necessary to accelerate disease management and improved outcomes."
She took the audience through some of the innovations that Atrius Health offers to patients and clinicians. On the patient side, there are tools like telehealth—virtual medicine supported by technology, such as video visits with providers—and Care in Place, which provides urgent care services in the home. For clinicians, there are algorithms that can predict risk and partnerships with companies like IBM Watson Health.
Real-World Expertise
The distinguished guest lecturer has been a feature of the Healthcare Administration Program for nine years. The goal brings in a local healthcare leader to talk with MHA students, share advice, and give a lecture.
"We look for someone who can inform and inspire the students about what's going on in healthcare these days," said Peter Rivard, chair of the Healthcare Administration department. "And the lecture itself is a great opportunity to bring together our MHA community, and that includes past guest lecturers."
For Rosenblum, it was a chance to meet the next generation of leaders for her profession, which is undergoing huge changes.
"The MHA students are very much up to speed on current trends in the industry and the market forces that are going to drive where we go in the future," said Rosenblum. "We talk a lot about disruptors in the market, like the CVS/Anthem merger or the Amazon/Berkshire Hathaway/JP Morgan Chase partnership or the rapid advancement of technology and how any of these might change healthcare. But how radical can we be in the current model of healthcare, one that tends to support only incremental changes? That's the kind of issue MHA students will face."
Contact
Greg Gatlin
Office of Public Affairs
617-573-8428
Ben Hall
Office of Public Affairs
617-573-8092