Partnerships and Public Service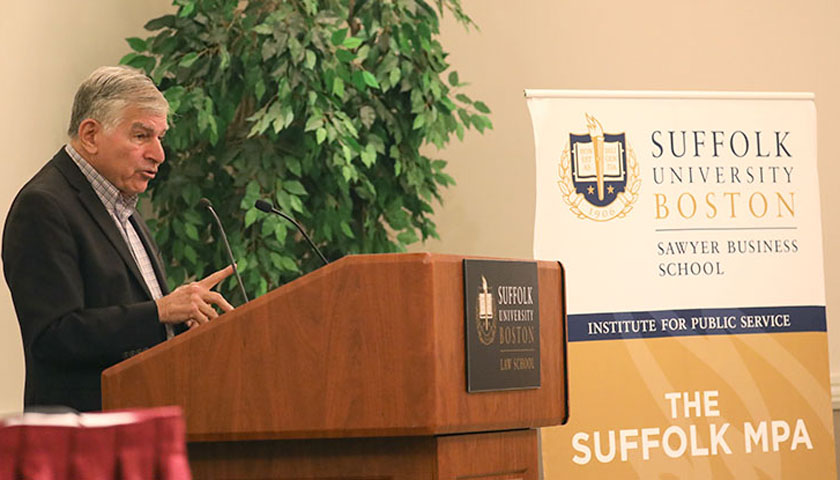 The Big Dig. A multi-million dollar expansion of the Los Angeles Country Natural History Museum. Outsourcing the maintenance of the City of Chicago's parking meters. All these projects have something in common: They relied on partnerships between governments and the private sector.
This idea of "partnership governance" was the theme of the 2018 Suffolk University Public Service Symposium held in May.
Keynote speakers Jane Pisano, president the American Society for Public Administration (ASPA), and Michael Dukakis, former governor of Massachusetts, were just two of the many seasoned experts who discussed the ways that partnerships between governments and private-sector businesses have worked (or not) over the decades and how they're going to be vital in the future.
"We need to prepare partnerships to respond to the 21st century," said keynote speaker Pisano. "That's because they can move us forward and build communities."
Dukakis shared insightful anecdotes about his partnership governance experiences—from dealing with the Blizzard of '78 to privatizing commuter rail to cleaning T stations. His key to partnership success? Building consensus and listening.
"If you don't bring people together around a policy, you'll fail," he said.
A Higher Public Profile
The recent symposium is just one way that the Sawyer Business School's Institute for Public Service is becoming a national resource for public service practitioners and academics. Professor Marc Holzer, a prominent international leader in the field of public administration, is spearheading efforts that include publishing four journals, hosting a virtual museum of public service, and, in June, sponsoring the Sino-U.S. Public Administration Conference in Beijing.
"It's important as an academic institution to bring people together to establish a continuing dialog," said Holzer. "We want the institute to be a nexus for public administration and public management." Toward that end, the Institute for Public Service also plans to develop webinars, provide employment resources, and increase partnerships with other institutions.
One way the institute is addressing its major goals is actually rather small: It recently published an updated version of "A Call to Serve," a pocket-sized booklet that includes quotes on public service by a range of notables—everyone from Gandhi to Goethe.
"The book is just one of the many ways we're working to keep public service high on people's agendas," said Holzer.
This past year, Suffolk's Master of Public Administration Program jumped 50 points in national ranking, the most improved program in the country. In fact, in the category of Public Affairs, Suffolk is now ranked within the top one-third of similar programs nationally.
Suffolk's MPA is one of only five accredited programs in New England.
Contact
Greg Gatlin
Office of Public Affairs
617-573-8428
Ben Hall
Office of Public Affairs
617-573-8092