Aspiring journalist gains sportswriting experience
Clevis Murray has been working on his game, hoping to improve his chances of making the NBA—as a journalist, not a player.
He got a bit closer to his goal this past summer, gaining valuable experience covering pro hoops on a daily basis as a sports writer for the Arizona Republic.
"This opportunity helped me to gain hands-on experience at a high level," said Murray, Class of 2019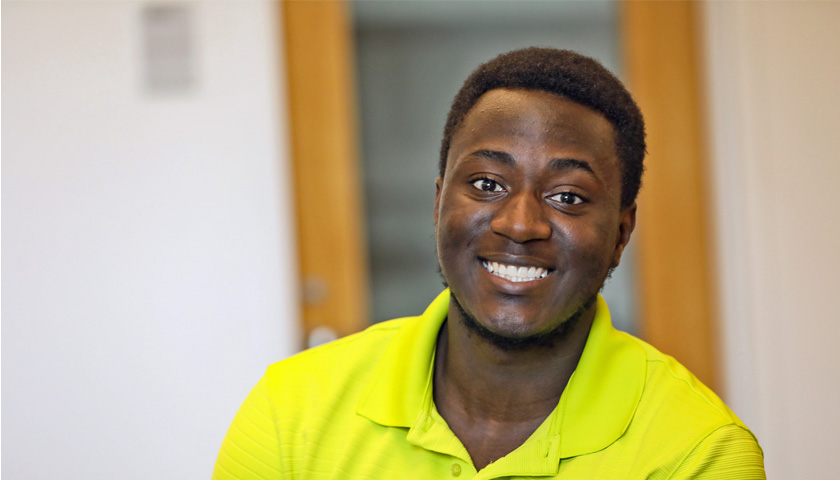 He reported on the Phoenix Mercury of the WNBA, the Phoenix Suns' pre-draft workouts, and the NBA Summer League in Las Vegas for Arizona's largest daily newspaper.
"I love basketball, and being around the sport, the players, and the media in those environments as a reporter was great," he said. "Summer League is a marquee NBA event and something I always wanted to cover and was lucky enough to do so."
The reporting experience was made possible through a Pulliam Fellowship from the Gannett Company, Inc.
Getting the green light
From the time he entered Suffolk, Murray has been single-minded in his career goals.
"Having known Clevis as a student since his freshman year, his personal growth has been a pleasure to observe," said Professor Monika Raesch, chair of the Communication & Journalism Department. "His passion for sports coupled with his studies has opened so many doors for him that I hope he is very proud of."
Raesch enjoys her role as Murray's faculty adviser.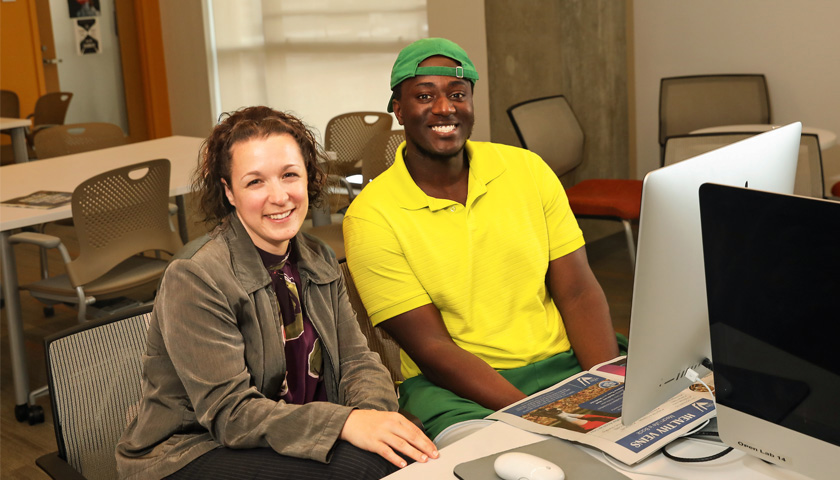 "For several semesters, Clevis has stopped by my office to check-in or just say 'Hi,' which is wonderful from any faculty or adviser perspective," she said. "We get to share in the student's joy and celebrate with the student when an internship or job offer is being made."
Murray even stayed in touch with Raesch this summer while nearly across the country.
"Clevis checked in with me from Arizona, and the tone of his email was just as excited as when he stands in my office," said Raesch. "I am so happy that he was given this opportunity and am looking forward to hearing what is in store for him next."
Creating his own shot
For Murray, Class of 2019, the summer experience was the latest of many journalistic gigs.
He enrolled at Suffolk primarily to study print journalism and immediately got involved with the Suffolk Journal student newspaper, and, almost immediately, "I knew this is what I wanted to do," he said.
"It also taught me how to work with others—from getting advice from an editor on rewriting a story to expressing myself at group meetings where everyone would pitch different story ideas."
Murray also worked as a sports correspondent for the Boston Globe, where he took high school scores over the phone, wrote game briefs, and covered an occasional schoolboy basketball tournament.
From there, Murray found himself covering the Boston Celtics for The Athletic sports subscription website. He was present at every Celtics home game toward the end of the 2018 season and throughout the NBA Eastern Conference finals.
Murray had complete access to the locker rooms and press areas, interviewing pro players and coaches alongside other media members, yet he remained calm and collective.
"I'm not a person that gets starstruck," he said. "I don't consider pro athletes as celebrities. I look at them more as public figures who are doing something they love and making a lot of money doing it."
Murray believes that television and social media give athletes "the perception that they are bigger than life."
Team player
Since his sophomore year, Murray has been a work-study student in the Sawyer Library, where he has impressed his supervisor and made yet another connection to the world of sports news.
Jennifer Blakely, the library's head of circulation said: "Clevis will have no problem finding a job after graduation. He is talented, hardworking, and dedicated. He has already proven to be a valuable contributor to the field of sports journalism."
Blakely's husband, A. Sherrod Blakely, a digital media reporter for NBC Sports Boston has served as a mentor to Murray, and he visits campus often as a guest speaker discussing his industry with students.
"He just tells me to keep working hard and to make sure I work for an organization that will benefit my development in terms of getting a full-time job," he said. "He's looked out for me a lot and has played a huge role in my journalism career."
Contact
Office of Public Affairs
617-573-8428