Rankings Cite Suffolk for Positive Impact on America & for Percentage of International Students
Washington Monthly and U.S. News release .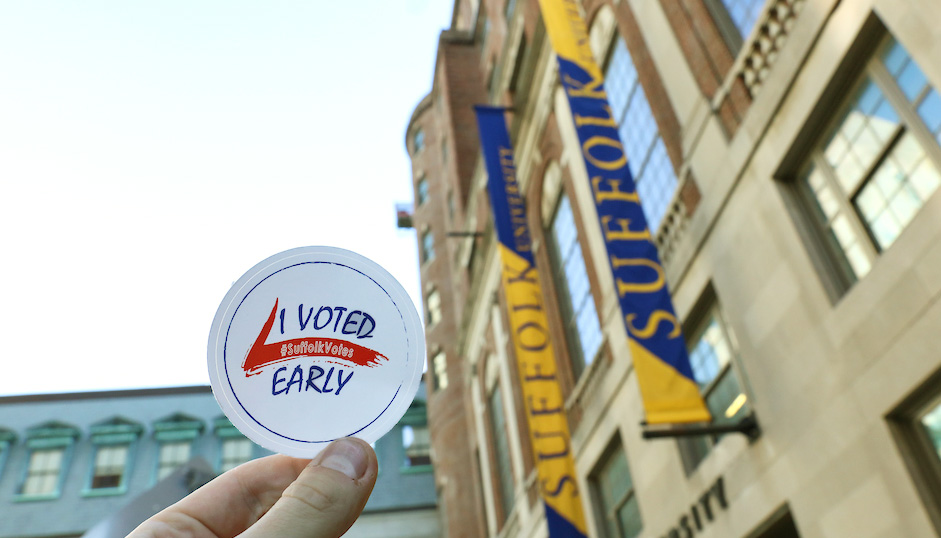 Suffolk University is one of the top 100 national universities that best serve the nation, according to Washington Monthly magazine. And the U.S. News & World Report rankings note that Suffolk's significant percentage of international students place it third among National Universities in that category.
U.S. News included Suffolk in its National University rankings for the third consecutive year. The University has climbed that list each year and is now ranked 177 out of hundreds of National Universities.
With 22 percent of its students from outside the United States, Suffolk is in a third-place tie with Boston University and Carnegie Mellon for National Universities' percentage of international students.
"International students play an important role in Suffolk University's educational mission and are not just welcomed, but also included in everything the campus community has to offer," said Suffolk University President Marisa Kelly.
Contributing to the public good
Washington Monthly reviewed colleges and universities nationwide, based on their "contribution to the public good in three broad categories. … Social Mobility (recruiting and graduating low-income students), Research (producing cutting-edge scholarship and PhDs), and Service (encouraging students to give something back to their country)."
"Suffolk University fosters a spirit of service and civic engagement in our students in a variety of ways, and we are delighted to see the results of those efforts recognized," said Kelly. "Suffolk is a leader among universities in voter registration drives, service learning courses, law clinics and the promotion of volunteer opportunities. That spirit of service is something our graduates carry with them throughout their lives. Moreover, Suffolk creates transformational pathways of opportunity that take many of our students from the bottom 40 percent of the income ladder to the top 40 percent."
The University is number 98 in the 2018 rankings in the National Universities category, leaping ahead 142 places since last year. The evaluation reflects Suffolk's strengths in:
Voting engagement
Pell Grant recipients' graduation rates
Percent of federal work-study grants spent on community service
Post-grad earnings performance
Predicted repayment of student loans
College voting
Suffolk University also made Washington Monthly's list of "58 Best Colleges for College Voting," This recognition comes at a time when hundreds of first-year students have registered to vote during orientation activities and as a series of fall-semester campus events aim to boost civic engagement. The University previously was recognized as a "high-voting-rate campus" in 2016 by Tufts University's Jonathan M. Tisch College of Civic Life.
Upward mobility
Suffolk graduates are known for finding success in the workplace: 95 percent of alumni from the Class of 2017 were working or in grad school within one year of graduation. Many of these jobs stem from experience working in the business, cultural, and government entities around Suffolk's downtown Boston-campus. Other students launch their own businesses with support from the Sawyer Business School Center for Entrepreneurship, bolstered by knowledge gained from a unique crowdfunding course.
The University's Center for Community Engagement provides an abundance of service opportunities at the local, national, and international levels, and it works closely with faculty to develop service-learning courses that provide learning experiences while doing good.
Suffolk University was founded more than 100 years ago with the promise of offering higher education to capable students from all walks of life. The Washington Monthly ranking recognizes the University's continuing commitment to educating civic-minded citizens who find success locally, regionally, and globally.
Washington Monthly focuses its rankings on higher education institutions that "serve the best interests of taxpayers and the country as a whole—including by enrolling and graduating students of modest means."