Athletes Speak Out & Reach Out to Improve Mental Health
Ford Hall Forum conversation with sports community aims to remove stigma,
When professional athletes – often seen as "the best of the best"—are faced with mental illness, it can be difficult for their friends and family to comprehend that someone at the pinnacle of fame and accomplishment can be depressed or anxious.
"I first told my cousin that I get down sometimes," said Chamique Holdsclaw, an Olympian who once graced the cover of Sports Illustrated and is now retired from the Women's NBA. She shared her story in a "Conversation on Mental Health with the Sports Community," presented by Ford Hall Forum at Suffolk University.
Holdsclaw's cousin didn't understand that Holdsclaw, who "had everything" could be depressed. Given his reaction, the basketball legend, who has struggled with her mental health since she was 11 years old and now understands that she is bipolar, decided that she just couldn't be sad—or at least she couldn't let on about feeling down. "I became a people pleaser, but I knew how to mask. I felt alone. …I didn't want to tell my teammates, because I was their leader."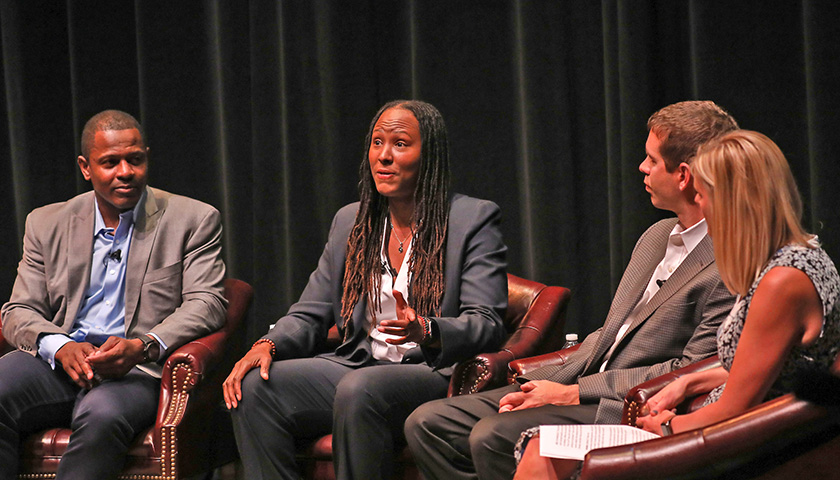 The silence that too often surrounds mental illness hinders individual efforts to get help and makes it difficult to generate government support for research and care, according to Congressman Joe Kennedy III, who led the discussion along with NBC Sports Boston anchor and reporter Trenni Kusnierek, who told of her own anxiety and depression.
Mental illness affects more than 18 percent of Americans in any given year, and yet "no one wants to talk about it," said Kennedy. He pointed out that 55 percent of U.S. counties have no clinical psychologists, psychiatrists, or social workers, and many clinicians won't take health insurance; even fewer accept Medicaid or Medicare
"It's a massive policy failure," he said. "The three largest mental health treatment centers are jails—in New York, Chicago and LA."
While politicians like Kennedy work on the issue at the policy level, other people offer a more personal level of support.
Boston Celtics Coach Brad Stevens works to create an atmosphere where players and staff can be comfortable discussing their mental health, while Holdsclaw and former New England Patriots wide receiver Troy Brown are on call to athletes and retirees.
Pressure to excel
Stevens worked at a pharmaceutical company immediately after college, and his work was focused on two psychiatric drugs. "I learned so much so quickly and saw how many people were living with things they wouldn't talk about, but there was treatment available."
Now in his role with the Celtics, Stevens works to "build awareness, create an atmosphere where it's comfortable to talk, and provide whatever resources people need. Among the elite of the elite, there's the pressure to put the cape on every night. The pressure, not just to compete but to be the best of the best, can be a trigger for harsh times."
Meanwhile, in the football locker room, "players are taught to be big, bad, and bold," said Brown. He told of one teammate who, once his playing days were over "just disappeared. Once football was gone, that was the turning point for him. I lost all contact with him. I don't know what's happening with him now."
Brown makes himself available to support peers and will go out and sit with an athlete at 2 in the morning if he gets a call from someone in crisis.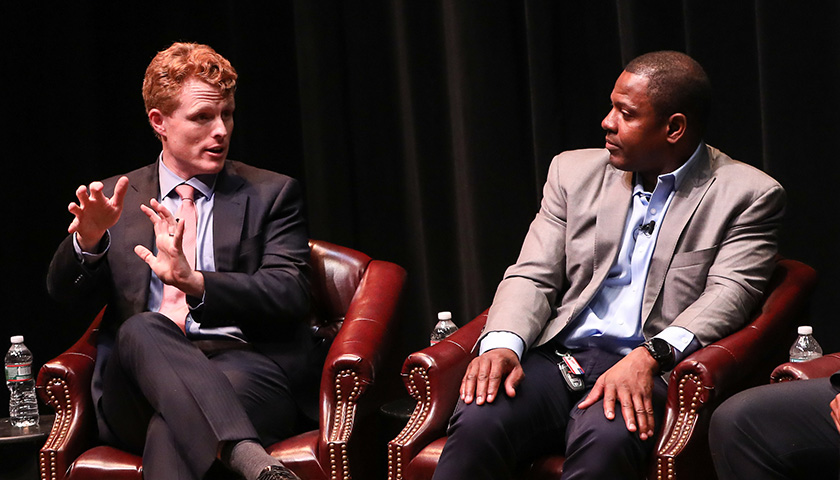 Difficult transitions
Brown and Holdsclaw both talked of the very real loss felt when an athlete's career is over and how that can have a devastating effect on their outlook—particularly if mental illness already is a factor.
"You're playing from the time you're twelve years old, and then it's gone," said Holdsclaw. "When athletes are graduating, that's when I get so many calls. These kids are cutting themselves; hurting themselves."
Going public to erase stigma
For Kusnierek, who has dealt with severe anxiety since she was 5 years old, the decision to speak out came when she heard of the suicide death of Hall of Fame Linebacker Tiaina Baul "Junior" Seau a few years after his retirement.
She immediately emailed a journalist who was working on a profile focused on her career in sports news, saying. "I want to talk about depression and anxiety."
Opening up about personal problems isn't easy, but it's a way to fight the stigma that still hovers around mental health, said Kusnierek. "You worry about how people will receive it, but I feel it's been worth it."
Out of sight…
Brown, who played with Seau when he joined the Patriots, said his teammate was a motivating presence. "He had it. People just came to him. When you talk about not showing signs; he was even teaching people to play guitar in the locker room."
Joe Matthew of WGBH Morning Edition, who moderated the discussion, noted that mental illness affects many families, a theme picked up by the panelists, who said that secretiveness masks the reality.
"We're living in a day and age when people talk off the cuff—or tweet off the cuff," said Stevens, who would like to see meaningful conversation around mental health. Given that nearly one in five people are affected, "we need to communicate about it as though it's that prevalent, not like it's just a few people."
Kennedy said the federal budget is essentially the sum of our priorities as a nation.
Until the stigma is removed from mental illness and people open up about its impact, the 435 members of Congress will not act, he said. "If no member of the Texas delegation hears about it, it won't be a priority."
Kusnierek pointed out that cancer was once a forbidden topic. Yet when the public began advocating for research and funding for cancer, AIDs, and opioid addiction, the tide began to turn. "If we are not saying: this is what happened to my friend, if we're not seeing a march on Washington, how do we strip away the stigma?"
The Ford Hall Forum is the nation's oldest continuously operating free public lecture series. The discussion of mental health among athletes was presented in accord with its mission to foster an informed and effective citizenry and to promote freedom of speech through the public presentation of lectures, debates, and discussions.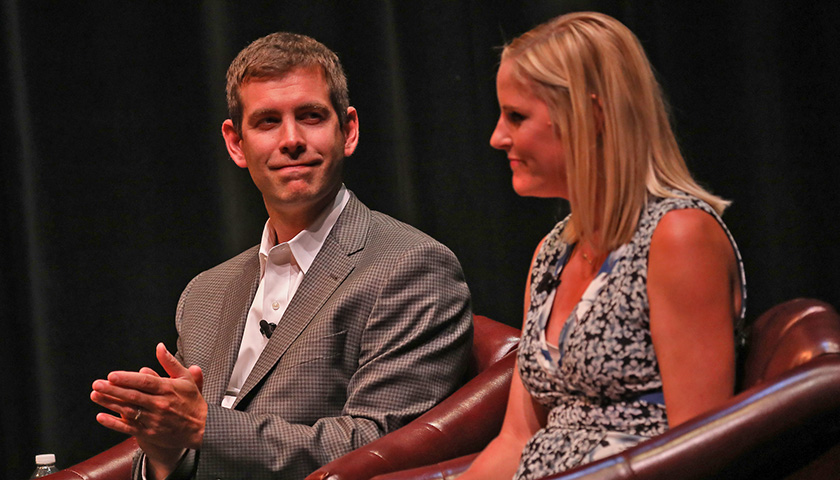 Contact
Greg Gatlin
Office of Public Affairs
617-573-8428
Office of Public Affairs
617-305-1910