Patient Safety vs. Rigid Ratios
Suffolk co-hosts debate over ballot Question 1.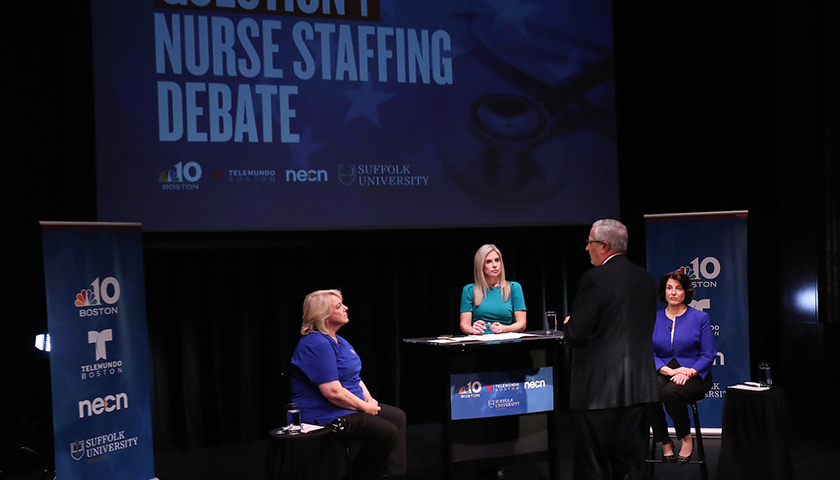 Patient Safety vs. Rigid Ratios
With only a few days before the midterm elections, the ballot question getting the most attention in Massachusetts is Question #1, which asks voters to decide whether or not to impose fixed nurse-to-patient ratios in all Commonwealth hospitals.
To help voters explore the issue further, Suffolk University, along with NBC10 Boston, Telemundo Boston, and NECN, co-hosted a live debate at Suffolk's Modern Theatre in downtown Boston, moderated by NBC10 news anchor Shannon Mulaire.
Urging a "yes" vote to establish patient limits was Donna Kelly-Williams, president of the Massachusetts Nurse Association. Arguing for a "no" vote that would not impose limitswas Karen Moore, senior vice president of operations and chief nursing officer at Lawrence General Hospital.
Kelly-Williams posited that limiting to four the number of patients assigned to every nurse will translate to better care, fewer errors, and a decrease in hospital re-admits. "When there are too many patients for nurses to care for, bad things happen," she said in her opening remarks.
She pointed out that, for years, nurses have been trying to ensure that patients are receiving appropriate nursing care, either by working directly with hospital executives or through legislation. Nothing has changed, which is why this is now a ballot question.
"If you or a loved one were in the hospital, would you rather be one of four patients or one of eight?" she asked.
King claims that that if Question 1 passes, the cost to hospitals—and maybe patients—would be between $650-$950 million, a figure several sources agree on. That cost might result in hospitals closing unprofitable wards or eliminating patient beds. Not only that, it would reduce the flexibility hospitals need to handle the flow of patients. And limits aren't something every hospital needs or wants in the first place. "It's a statewide endeavor to fix something that's not a statewide problem," King said.
The debate was brisk but cordial, with each side answering questions from the public and each other. Because Boston is arguably the center of the healthcare universe, the debate had an extra resonance that is sure to be felt even more keenly once the voting is over.
Election Day is Tuesday, November 6. Early voting is available statewide.
Contact
Greg Gatlin
Office of Public Affairs
617-573-8428
Ben Hall
Office of Public Affairs
617-573-8092