Red Sox Parade through Campus
Suffolk community is front and center for celebration of baseball's 2018 world champions.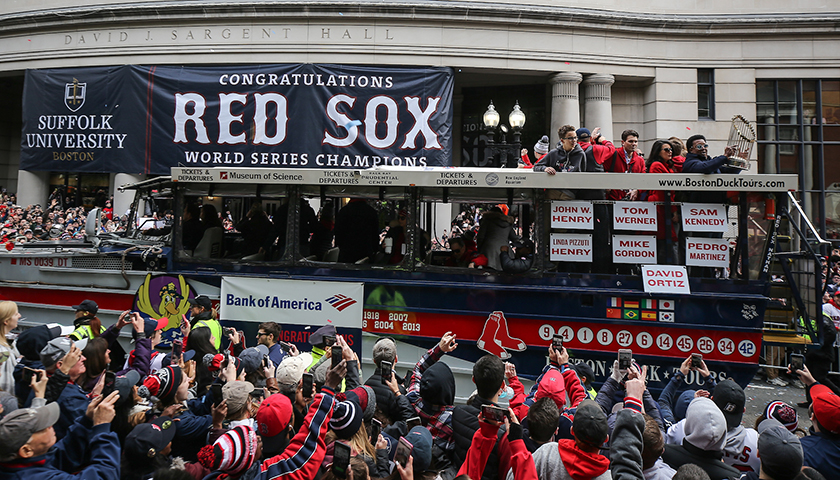 Red Sox Parade through Campus
When it comes to celebrating the success of Boston professional sports teams, Suffolk University has a kind of home field advantage: The teams take their victory laps right through campus.
This hit home once again as students, faculty, and staff gathered to cheer on the 2018 World Champion Boston Red Sox during the city's duck boat parade honoring the hometown heroes.
The Suffolk community was at center stage showing ecstatic support for the Sox as the ultimate MLB celebration rolled right by the front doors of campus buildings.
Singing & dancing in glee
"I grew up in a big baseball family, so I didn't want to miss anything today," said Brianna Chalas, Class of 2021, a marketing and big data double major. "This was something I will never forget."
"It was a once-in-a-lifetime opportunity," said Elena Bonetti, Class of 2021, a finance major. "It brings everyone together and makes you appreciate the special moment, because you never know when something like this is going to happen again."
All ages came together in a massive crowd that sang, danced, and cheered as the duck boats carrying the Red Sox players, coaches, and other members of the winning organization rolled through town.
Blasts of red, white, and blue confetti filled the air, much to the delight of the boisterous fans. Red Sox players smiled, waved, and recognized their faithful fans, at times to the song "I'm Shipping Up to Boston," performed on board a duck boat by the Dropkick Murphys, a band tied closely to the Sox since 2004, when the team broke its 86-year championship drought.
Jinhao Huang, a Sawyer Business School graduate student who came to Suffolk from China two months ago, watched the parade from inside the Sawyer Library.
"This is exciting and gives me an awesome feeling," said Huang, who wore a Red Sox World Series jacket and baseball cap. "Seeing something like this makes me learn more about American culture and how people really support the team."
Eye-to-eye with hometown heroes
Kristi Warab, acquisitions manager of the Sawyer Library, was perched comfortably on a windowsill in her work area. "This is the best location," she said. "I had the perfect view; almost eye level with the players. "Everybody cheered the most for Mookie (Betts). He has the best smile."
John Kineavy, Suffolk's manager of purchasing and a lifelong Red Sox devotee, wore his Red Sox jacket to work, but changed into his David Price jersey and team scally cap when it came time to go outside and watch his team celebrate.
"I have such a feeling of elation and satisfaction," he said. "This is a historic team and, after jelling in September, there was no looking back."
Kate Rodrigues, office manager in the Mathematics & Computer Science Department, and her coworkers watched from an eighth-floor conference room window in the Stahl Center.
"This is the same window I was at when Tom Brady waved to me during the last Patriots Super Bowl parade," she said with a big smile. "And when are you going to have a Red Sox parade and Halloween fall on the same day ever again, like it did this year?"
Michael Hadley was in full Halloween-plus-team spirit. He wore a Chewbacca costume, a Red Sox cap, and a David Ortiz jersey as he cheered on the world champs with dance moves in front of a Sawyer Library window. His performance captured the attention of Red Sox players and fans.
"This was a great celebration and a good time had by all," said Hadley, an administrative services coordinator in the Theatre Department. "It was great to see the team give back to the fans for the way we've supported them all year long."
Students join media fray
Suffolk's ideal location along the parade route drew Boston news photographers and videographers to campus, and they captured all the action from perches in the upper floors of the Stahl Center and Sargent Hall.
Students were also busy shooting video and running a live camera feed to New England Cable News and NBC Boston from just outside the University's studio on Tremont Street.
Suffolk University Police Officer Pedro Valentin, who was able to savor the parade of champions while keeping a watchful eye outside of the Stahl Center, said that, wherever he goes, he tells people he's from Boston.
"I'm very proud of this city," he said.