Seminars use music to hone first-year students' writing skills and creativity.
Music has a unique ability to stimulate the brain; it taps into human emotions; most people enjoy it. And first-year students at Suffolk are discovering that it provides a fun way to fine tune the skills they need to succeed in college.
"What we've found is that music engages more parts of the brain than any other human activity. It's that powerful," said Professor R. Harrison Kelton, who teaches Music and the Brain, one of three music-related Seminar for Freshmen courses that challenge first-year students to think critically and creatively.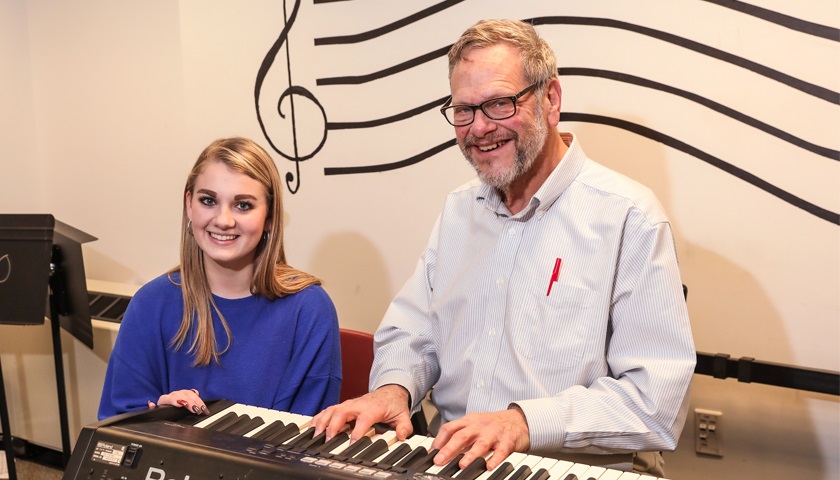 "We learn what music can teach us about the brain, what the brain can teach us about music, and what both can teach us about ourselves," said Kelton, a World Languages & Cultural Studies faculty member known as Suffolk's "Music Man."
During class, Kelton might perform a few melodies on the piano or sing a few notes to capture his student audience, and he recently took them to a local church, where he demonstrated the various instrument sounds that can be played on a pipe organ.
Sharing playlists
Kelton plays all kinds of music in class, from classical to jazz, and encourages his pupils to share their playlists with him "so that way I can learn as well." His curriculum enhances students' research, writing, critical thinking, and interactive skills.
"I like how Professor Kelton uses a variety of mediums to supplement the course material and helps us to understand and appreciate music," said Ryan Coyle, Class of 2022, a singer who plays three instruments.
Coyle, a psychology major, describes the course as "informative and fun," and believes it has helped her to become acclimated to the college environment. "It's like a building block for future courses," she said.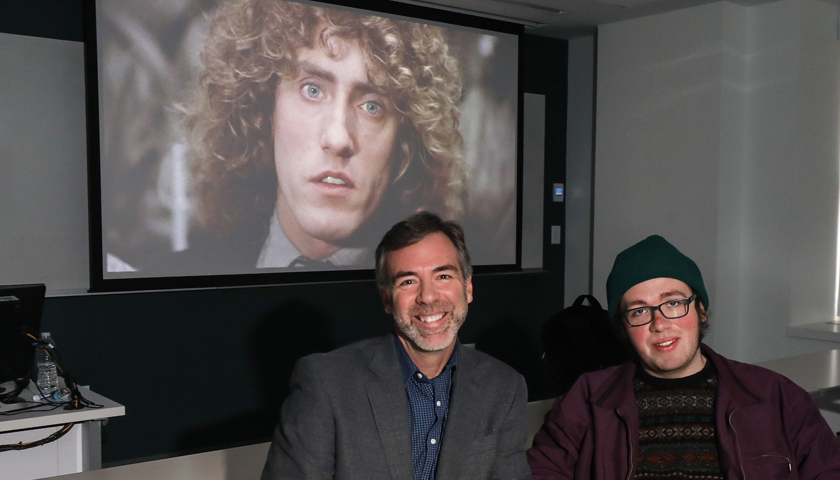 Rock's cultural heritage
Students in English Professor Quentin Miller's course, The Rebirth of Tragedy: Rock Music 1968-1972, get to thoroughly examine rock music's "golden age," a period that saw the tragic deaths of some of its most talented stars—Jimi Hendrix, Janis Joplin, and Jim Morrison—and the breakup of the Beatles.
"We collectively attempt to deepen our understanding of the forces that culminate in tragedy," said Miller. "We also look at the culture surrounding this music, including contemporary events, poetic precursors, and cultural analysis."
"We collectively attempt to deepen our understanding of the forces that culminate in tragedy," such as the deaths of Jimi Hendrix and other cultural luminaries of the '60s and '70s.
The course touches on music history, cultural history, philosophy, and literature. Writing is a key component, as students are not only required to listen to and discuss music in class, but also to analyze it through detailed essays.
"I teach my students to listen more carefully and treat music as an art form, not just entertainment," said Miller.
"This course has helped me look at art and poetry through a different lens," said Caleb Elfland, Class of 2022, a Politics, Philosophy & Economics major. "I enjoy how we are able to think on our own and express ourselves individually and in group discussions."
The Beatles and the '60s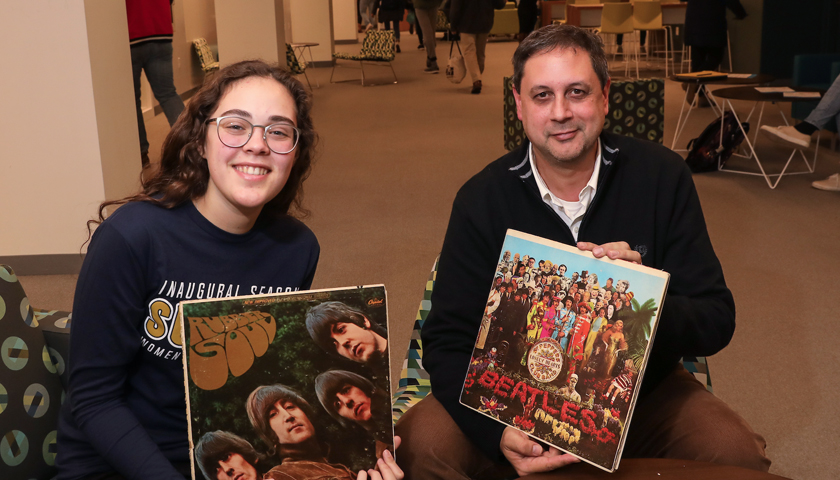 Another popular music-related course among first-year students is The Beatles: Here, There and Everywhere, taught by David Gallant.
"The Beatles deserve our attention not only as musical innovators, but also as cultural avatars of an era, the 1960s, which still exerts influence today," said Gallant, associate director of the Undergraduate Academic Advising Center.
"The Beatles are an intergenerational topic. When students go home for the holidays, this is a course they talk about with their parents and grandparents."
"The popularity of the Beatles goes on forever. When students go home for the holidays, this is a course they talk about with their parents and grandparents," he said. "The Beatles are an intergenerational topic."
This semester, in addition to listening, discussing and writing about the Beatles, students saw one of the group's icons in person when Gallant took them to see Ringo Starr and his All-Star Band perform at the Wang Center.
A fun approach
"This was important because it helped connect a group of freshmen to their new city, environment, and surroundings," said Gallant. "It also proved that students have the best educational experiences when they realize that they are learning something and having fun at the same time."
"The best part about the class is how we discuss historic events around the world and how they relate to the many stages of the Beatles as a band over time," said freshman Laurana Quesada, Class of 2022, a Creative Writing major.
"The course is challenging, but I enjoy it because it prepares you for college in a way that doesn't put a lot of pressure on you, and you're studying something that you like."