Research to Seek Remedies for Domestic Violence/Opioid Survivors
Sociology professor launches grant-funded collaboration.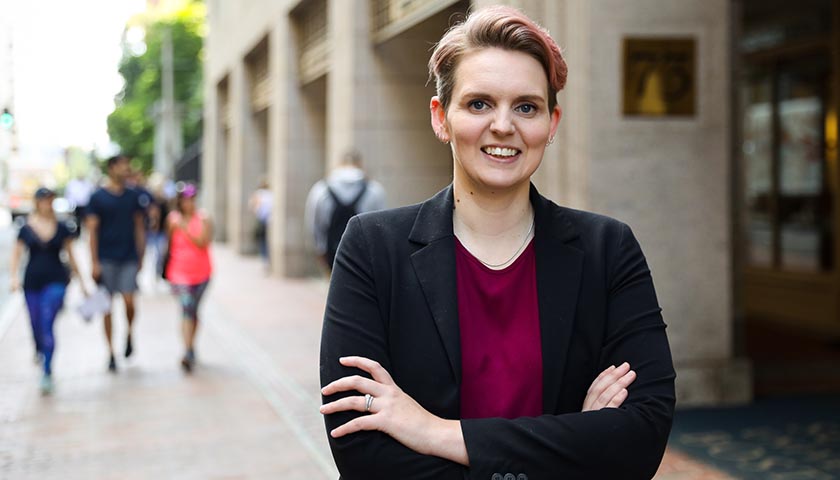 Professor Rebecca Stone is focusing her attention on two of the nation's most daunting epidemics as she begins a three-year program to benefit survivors of domestic violence struggling with opioid use in rural Vermont through a fellowship awarded by the Robert Wood Johnson Foundation.
"I will get the chance to meet women and hear about their experiences with the health and justice systems as well as engage with people in different Vermont communities," said Stone, of the Sociology Department, whose work is part of a $350,000 research grant.
Growing crisis
There were 101 opioid-related deaths in Vermont in 2016, a rate of 18.4 deaths per 100,000 people, more than the national rate of 13.3, according to the National Institutes of Health.
In addition, a study by the Centers for Disease Control and Prevention shows that neonatal abstinence syndrome in Vermont has increased from 0.7 cases per 1,000 births in 2001 to 33.3 cases per 1,000 births in 2013.
Improving lives
Stone hopes her applied, interdisciplinary, and community-based research can uncover ways to improve the lives of everyone involved.
"To me, this is an opportunity to help close a gap in services and treatment options for an overlooked population," she said. "I see this project as having a positive impact, not only for individual women, but also for their families and communities."
Stone will be part of a research team that includes Emily Rothman, professor of Community Health Science at Boston University, and Diane Kinney, co-executive director of the CIRCLE domestic violence shelter in central Vermont.
The first step for Stone and her partners will be to research what the women's needs are related to intimate partner violence and substance abuse services. The team will then conduct a policy assessment and interview key stakeholders in Vermont to identify any policy barriers to women accessing needed services.
Research will lead to intervention
"Based on what we find, we will design an intervention aimed to reduce those barriers," said Stone.
"Our goal is to change lives, not only in Vermont, but in other states that hopefully will adopt our intervention and be able to make a difference for so many other people."
Stone and her research partners meet in-person and communicate online throughout the week in addition to taking part in weekly webinars with staff at the Robert Wood Johnson Foundation.
"This is all a collaborative effort," said Stone. "It's a lot of work and time, but totally worth it."
Classroom connection
Stone plans to share what she learns in her classroom.
"Everything I learn, I turn around and teach my students," she said. "Working on this project will allow me to share real-world scenarios related to topics we study in class, as well as teach better techniques for research and communication.