Suffolk community members and dignitaries offer greetings.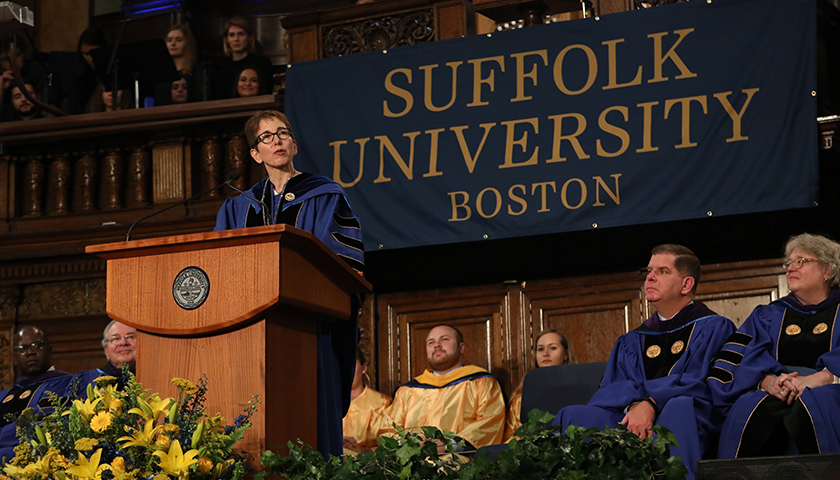 Marisa Kelly argued for the "indisputable" value of higher education in a wide-ranging address during her inauguration as Suffolk University's 11th president in ceremonies at a packed Converse Hall in Tremont Temple.
"At a time when there is doubt and cynicism about the worthiness of a college degree, I will not mince words. The value of higher education is indisputable, and for many Suffolk students, it is literally life changing," said Kelly during her inauguration speech to students, faculty, staff, alumni, friends and dignitaries—many of them garbed in royal blue Suffolk academic robes.
Citing a study that showed Suffolk eighth among 76 colleges and universities in Massachusetts on an overall mobility index, the president said: "We have a strong track record of enrolling and ultimately graduating students from low-income families…and we graduate those students at significantly higher rates than the national averages. Those students go on to get good jobs, and attend graduate school and launch successful careers.
"We are Suffolk University, and we are a powerful force for good. It is a power derived from the strength of our community, from our commitment to inclusion and from our dedication to an essential mission. We have been a force for good for more than a century, improving the lives of countless individuals along the way. And that is how we want the world to know us."
Kelly's remarks followed greetings from members of the Suffolk community and dignitaries.
U.S. Sen. Edward Markey told of his experience as a commuter student who was the first in his family to go to college. Addressing Kelly, he said: "You will animate your work with the values of justice and tolerance and liberty and equality for all. We are here for you Madame President, because Suffolk University is a piston in our economic engine, driving us forward as a city, as a commonwealth and as a country."
He also gave a shout out to a Suffolk sophomore who is an intern in his office, saying, "Samantha tells me she loves Suffolk University."
Boston Mayor Martin J. Walsh called Suffolk "a Boston institution that holds up some of our greatest values. It calls on students to think for themselves as citizens, active members of our society, people who shape our future. …This University is an engine of upward mobility. Already President Kelly has built on this proud legacy. She is embracing our city's diversity and expanding those opportunities even further. …I'm proud to have her in this role as we grow as a leader in education, a champion for equal rights and a city of opportunity."
Massachusetts House Speaker Robert DeLeo said that, in his legislative role, "My Suffolk Law degree is one of my top credentials, and I know it's the same for other graduates. …This University uniquely promotes civic duty. It encourages and prepares its students to pursue careers in government, in nonprofits, in service of communities, families and individuals. …I know that Marisa Kelly will lead Suffolk into the future with passion, with excellence and in keeping with the University's tradition of cultivating public servants."
Justice Elspeth Cypher of the Massachusetts Supreme Judicial Court, like DeLeo a graduate of Suffolk Law's evening division, said: "I am confident that President Kelly will lead Suffolk University very well indeed as it continues to help students achieve an education and fulfill their potential. She has already demonstrated the talent and foresight that a university needs in its president to thrive today in the complex and quickly evolving society we find ourselves in."
Noting that she has worked alongside Suffolk Law graduates throughout her career, she said: "Not to be outdone by Senator Markey, I too have brought somebody from Suffolk University: my law clerk Dan Goodrich… who also attended Suffolk at night.
"I want to say congratulations President Kelly, but perhaps it's better to say: Congratulations Suffolk University. You have selected a good president, a great one."
Suffolk Board Chair Robert Lamb, describing Suffolk as a singular institution with a vital mission, said that the University "requires a special steward – someone who believes in the potential of our students and the dedication of our faculty and staff in supporting them. We are extremely fortunate to have found that person in Marisa [Kelly]. She is a passionate advocate for this great University and the difference it makes in the lives of our students and alumni."
Family influences
In her remarks, Kelly reminisced about growing up in a large family in Oakland, California, immersed in the sights—and sounds—of education: Her father was a music teacher, and she woke up on Saturday mornings to wafting clarinet notes as he instructed his pupils. And Kelly's father and mother, a onetime legal secretary, nurtured a spirit of lively but loving debate among their six children.
Kelly was drawn to institutions focused on teaching as she worked toward her PhD, despite advisers' steering her to large research universities. "I eventually realized that it was the influence of my father and his belief in the power of teaching and mentoring that led me on my path toward student-focused education and ultimately to Suffolk University."
Kelly thanked members of the Suffolk community, mentors from her years in academia and guest speakers, with a particular tribute to students.
"The genuine enthusiasm that our students have for their educational experience here—and the drive, the energy, the relentlessness, the creativity and joy that they bring to their endeavors—is life affirming and renewing, and I am grateful to be a part of it."
Diversity and the student experience
Reiterating her commitment to Suffolk's tradition and mission of providing pathways of opportunity for students, Kelly said: "We want to continue to deliver those transformative experiences to even broader populations from across the nation and around the world, even as we continue to serve students from the city of Boston and the region, including ensuring we serve even more members of this city's racially diverse population.
"We know from experience that when institutions purposefully try to make environments as diverse and welcoming as possible, they gain vitality and adaptability. …We understand that the educational experience of all of our students is that much richer because of our diverse community of people, all sharing different experiences, perspectives and conversations. And our students agree. Upon graduation, nearly nine in ten Suffolk students report that this University improved their ability to relate to people of different backgrounds and perspectives."
Partnerships
Suffolk had hosted a Partnership Breakfast as part of its Inauguration Weekend celebration, and Kelly spoke about the importance of the University's engagement with the external community.
"The life-changing experience we offer through internships, clinical programs, service learning and community engagement is impossible to deliver on our own. …We partner with the business and civic communities, with the City of Boston and the Boston Public Schools, with the legal and non-profit communities and so many others. … We will succeed through partnerships and through our unbreakable ties to this city and its vibrant organizations. You are here, you are helping us, and we are grateful for that help. And we will continue to give back."
Kelly laid out a vision for how Suffolk can have the greatest impact on students' lives that included:
Expanding the University's strong experiential learning offerings
Making career services a centerpiece of the University
Fostering skills in human interaction A commitment to international education
Developing cross-school collaborations and interdisciplinary programs
Building on the University's historic commitment to civic engagement
Kelly recognized faculty, staff and alumni in her remarks, and, in conclusion, she addressed the many students in the audience, saying:
"You are our future. Each of you has a unique story. And each of you is adding your story to the Suffolk story. …The city and the world await; the possibilities are endless; and we are in awe as we watch you make your way."