At Home on Campus
University names residence hall in honor of alumni Michael and Larry Smith.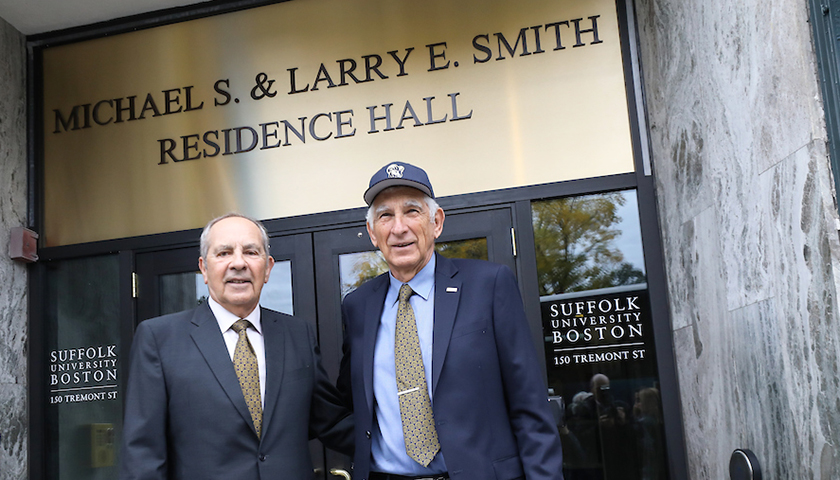 When Suffolk's first residence hall opened in 1996, it strengthened the sense of community among students, and now the building bears the names of two brothers who are avid supporters of the University and campus spirit: Michael Smith, BSBA '61, and Larry Smith, BSBA '65.
Michael and Larry Smith have been devoted champions of the University for many years, and the new name for 150 Tremont is a way for the Suffolk community to acknowledge their contributions. The renaming was made official at a ceremony attended by hundreds of students, faculty, and alumni.
After the stone plaque bearing the building's new name was unveiled, Michael Smith thanked the crowd and President Kelly. "This is a great honor," Smith said. "I'm so proud of Boston and of Suffolk University."
His brother Michael also thanked the assembled, then related how both their grandfather and father had been window washers in the neighborhood around Suffolk. He explained how, during high school, he and his brother had also worked as window washers, traveling in from Chelsea each morning, then back home in time for school. "If it hadn't been for Suffolk, we wouldn't have been as successful. We might still be washing windows!"
After earning business degrees at Suffolk in the 1960s, the Smiths entered the insurance industry. They have shared their success with Suffolk by funding student scholarships, the athletics program, and more. Larry Smith also serves on the Suffolk University Board of Trustees.
Andrea Nastri, Class of 2019, one of the student speakers at the naming ceremony, loves Smith Hall so much that she's chosen to live there three out of her four years at Suffolk University, the last two as a resident assistant.
She even has a bracelet stamped with the latitude and longitude of the building. It's that kind of devotion that makes the Smiths' contribution even more special.
"Michael and Larry Smith are really doing so much to build community here at the University," said President Marisa Kelly. "Building community is critical for student success, and we at the University thank the Smiths for their loyalty and exemplary generosity to Suffolk."
A piece of Boston history
Smith Hall occupies a space that originally was two buildings. In addition to being Suffolk's first residence hall, it is the University's largest. The structure at 150 was built in 1903 for the Oliver Ditson Company, the oldest musical publisher in the United States. The building at 148 was erected in 1912 and is a fine representation of a Second Renaissance Revival period "Palazzo Skyscraper." The buildings were combined as part of a major renovation in the early 1980s; Suffolk acquired the property in 1996.
"It feels nice to have my old home be celebrated," said Alex Ferreiras, Class of 2021, who lived in what was then known as 150 Tremont during his freshman year.
And as Nastri said in her remarks, "This isn't just a building. It's my home. It's where I grew up, learned, and connected with others. This is my place."
Contact
Greg Gatlin
Office of Public Affairs
617-573-8428
Ben Hall
Office of Public Affairs
617-573-8092