Restaurateur Partners with University to Battle Food Insecurity
Alumnus Gene Lee speaks at ribbon-cutting for Suffolk CARES food pantry.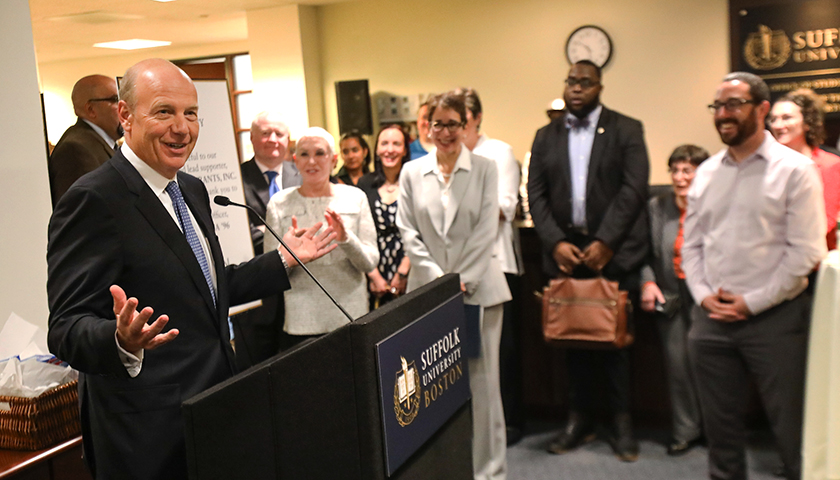 "How can you succeed in school when you do not know where your next meal is coming from?"
That was the question posed by Suffolk University President Marisa Kelly, referring to "food insecurity," one of the fastest growing problems on college campuses throughout the United States.
"Well, now, thanks to Darden Restaurants and other partners, our students in need know the answer to that question," said Kelly, "
Kelly's comments came during a ribbon-cutting ceremony to officially introduce the Suffolk CARES Pantry, created through a generous donation from Darden Restaurants.
"I work in a world where there is food everywhere; I've got 1,800 restaurants and every one of them is loaded with food," said Gene Lee, EMBA '96, president and chief executive officer of Darden Restaurants. "But as we prepared to participate in this project, food insecurity was an issue that never resonated with me until I started to read and think about it.
"This was an easy fit for us because our philanthropy focus is hunger. We're excited about the opportunity to be an ongoing partner."
Lee talked about the importance of students having access to a healthy lifestyle.
"The goal is for every student in this University to be properly nourished, in and out of class, at work, and in their everyday lives," he said. "It's hard enough to be a good student in a competitive environment without having to worry about your next meal. The pantry will provide students with a safety net and a place they can count on and that they deserve."
Kelly read an emotional statement from an anonymous student who had lost her job a year ago, following a car accident. She fell behind on her rent and other bills and saw her grades suffering. She applied for emergency food stamps and was denied – not once, but twice. But Shawn Newton, associate dean of students, and Amanda McGrath, director of student outreach & support, came to the student's rescue.
"The compassion they showed me was genuine and heartfelt," said the student. "I am proud to say I am still a Suffolk student because the staff really cares about their students. I am living proof of that."
When McGrath directed the student to the food pantry, she cried tears of joy. 'That's because students in similar situations like mine won't have to go through the pain and agony of worrying about where the next meal will come from if denied benefits."
Student Government President Morgan Robb spoke about Suffolk's "becoming a solution" to the food insecurity problem.
"Having a food pantry shows that the Suffolk community cares about us and our overall well-being as students," said Robb, Class of 2019. "We have students who seriously need the pantry.
Kelly thanked Darden Restaurants, Sodexo, and Harvard Pilgrim Health Care for supporting the pantry and helping the University respond to the issue of campus food insecurity.
"Without these donors, this food pantry would not be possible," she said.
The Suffolk CARES Pantry [email protected] has assisted 11 students thus far in the fall semester, according to Newton. Donation drives are conducted on campus monthly through a coordinated effort with University offices and student groups.
"It is our hope that by working with student groups and through word of mouth, we can combat the stigma surrounding food insecurity and help all those who might be in need," he said.
The food pantry is on the 12th floor of Suffolk's Stahl Center, 73 Tremont Street.