Ramping It Up
Alumni Mentoring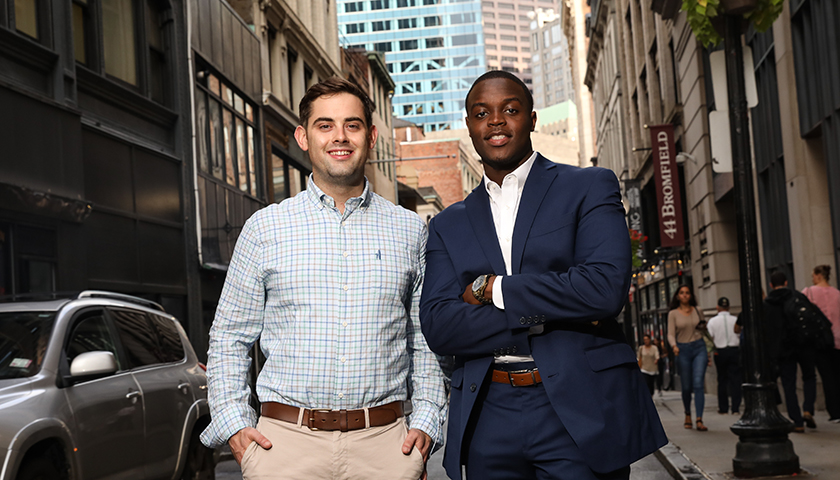 Ramping It Up
There's one thing Markendy Fils-Aime, Class of 2020, hates to hear: "You can't do that."
Like when someone told him he'd never get a high-visibility internship the summer after his freshman year at Suffolk. Not only did he get an internship, he got one at Deloitte, one of the prestigious Big Four accounting and consulting firms. Then he got a second one last summer as well.
"I set goals for myself," says Fils-Aime. "I like to prove people wrong. When people tell me I can't do it, I like that. I motivates me to do more."
Determination has been a part of Fils-Aime's life from a young age. Since emigrating from Haiti to America with his family in 2002, Fils-Aime's parents have told him that he needs to make the most of every opportunity.
One of the people helping him do just that is Mike Nay, BSBA '14, a fellow Deloitte employee and Fils-Aime's mentor through RAMP, the Ram Alumni Mentoring Program. Launched in the fall of 2016, RAMP connects alumni with undergraduates from the College and the Sawyer Business School. Its goal is to provide Suffolk students with a dedicated person to turn to for advice, counseling, and guidance. The program has more than 100 active mentors.
A guiding hand
Not only did Nay help Fils-Aime get both of his Deloitte internships, he's suggested ways for him to improve his business writing and communication skills. And when Fils-Aime wanted to apply for that first internship, the position had been filled, but Nay asked his Deloitte colleagues to do a phone interview with Fils-Aime anyway—just so he could practice.
"It wasn't supposed to be a real phone interview at all, but Markendy blew them out of the water, he was so good," says Nay. "So good that they asked him to come for an in-person interview."
Nay helped Fils-Aime practice for that interview, even rehearsing in the room where the meeting would be. Fils-Aime so impressed the interviewers that they offered him the internship position…despite its having been filled. He returned last summer for the second internship. And he's applying for a third one in 2019, this one in Deloitte's advisory practice, a completely different part of the company. Even though it's a risky move—he's basically starting over at the company—Fils-Aime is up for the challenge, something that impresses Nay.
"I've probably learned just as much from Markendy in the past two years as he's learned from me," he says. "It's kind of refreshing working with him. He has this mindset that anything's possible and that nothing's going to stop him."