Media Turns to Suffolk Law for Comment on Kavanaugh Hearings
The Wall Street Journal, the Boston Globe, and The Hill, among others, turned to Suffolk Law for an assessment of the Kavanaugh Senate hearings.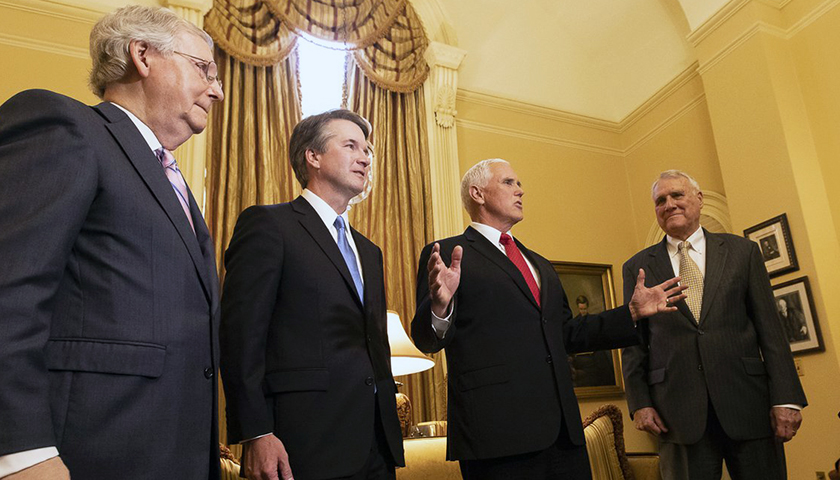 Media Turns to Suffolk Law for Comment on Kavanaugh Hearings
Media coverage of Suffolk University Law School students and faculty weighing in on the Judge Brett Kavanaugh Supreme Court Confirmation hearings included the Wall Street Journal, The Hill, the Boston Globe,
NBC News 10
and New England Cable News.
The Wall Street Journal visited Suffolk University Law School on September 27 to get live reactions from Suffolk Law students to the hearings, which were streaming live on the Law School's fourth floor. The Journal's live blog post: "
Law Students in Boston Gather for 'Historic Event
,'" (search for Jon Kamp once you are at the page) included quotes from second-year student Douglas Bennett and third-year student Andrea Ramirez.
In a September 27 article, "
Here's what legal experts had to say about Ford's testimony
," The Boston Globe turned to Professor Rosanna Cavallaro, a criminal law expert and former state assistant attorney general. Cavallaro addressed the testimony of Dr. Christine Blasey Ford and Judge Kavanaugh. "She came across like somebody's mom," Cavallaro said of Dr. Ford. "[During] the most troubling part of her narrative, the part describing [the alleged assault] in detail, her voice was choked up and catching in a way that seemed very genuine." Cavallaro said she found Ford "exceptionally credible" during her testimony.
Kathleen Engel, a research professor at Suffolk University Law School, was one of the organizers of a letter sent to the Senate opposing Judge Kavanaugh's nomination to the Supreme Court. In an article in The Hill on October 4, "
900 female law school faculty professors sign letter opposing Kavanaugh
," Engel said, "Our goal is for the Senate to take its obligation to the American public seriously. It is really a tragedy for the country and it threatens our democracy to have such a politicized process and to have a candidate who is really taking politics into the courtroom as a judge." The letter argues that Judge Kavanaugh lacks "the requisite judicial temperament" to sit on the court.