Liberty Design Challenge: Looking for Big Ideas
Money is on the table for the teams that find the best solutions to a legal challenge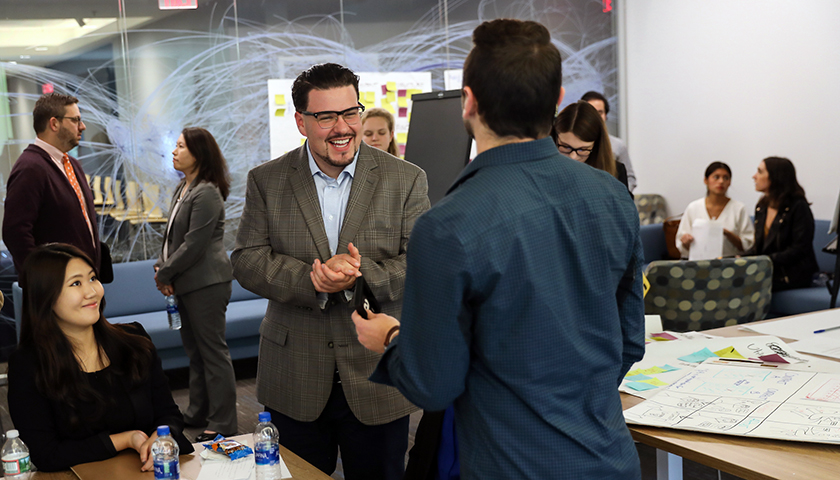 Liberty Design Challenge: Looking for Big Ideas
Sketch pads. Sticky notes. Tablets. Laptops. Scissors. And eight hours to come up with and present a powerful, actionable idea. The Second Annual Design Challenge, sponsored by Liberty Mutual Insurance, kicks off at Suffolk University Law School on October 19.

Students from Suffolk's Law School and Sawyer Business School will compete to come up with the most practical, useful, and innovative approach to a real-world problem faced by the US legal system, AmLaw 200 companies, and corporate legal departments. The winning team will take home a cash prize of $1,000 ($500 for second place and $250 for third).
The students will be working in small teams, all day, to apply the design process to solve the challenge put before them (they won't learn the specific requirements of the challenge until the day of the event). The design process challenges students to combine empathy, ingenuity and rationality to meet user needs and create successful solutions.
It's an intense, albeit fun, atmosphere, with teams formulating ideas, testing them, and iterating to improve upon them. The work lasts all day, with no breaks.

Last year, Lauren McNelley JD '19, Zhuxiao Jason Deng JD '19, and Samantha Lebrun JD '18 won first prize with "Lawggle," a non-billable resource for clients that demystifies legal issues. Lawggle uses short videos to explain relevant legal principles using hypotheticals. The benefit to a firm using the tool is an informed client, which reduces frivolous litigation and promotes a more productive conversation between attorney and client.

The judges for this year's Design Challenge are:
Liberty Mutual's Michael Stevens, Assistant General Counsel for Liberty Mutual and Sammi Elefant JD '18, First Year Associate in the Attorney Development Program
Kelli Proia, adjunct professor of law in Suffolk Law's Legal Innovation & Technology Concentration
Henriette Campagne, Vice President of Editorial at Massachusetts Lawyers Weekly.
The topic constraints and time pressures baked into a design thinking competition enable students to think more creatively, said Jeff Marple, Director of Legal Innovation at Liberty Mutual and a judge in last year's competition. "Having some constraint is actually helpful," he said. "It spurs creativity and decreases development time. If you are given an unlimited budget of time and money….you will spend an unlimited amount of time and money. Creating new things is not a painless process. A little pressure can help people find a new way of looking at things."
Prof. Gabriel Teninbaum, director of Suffolk Law's Legal Innovation & Technology (LIT) Concentration says events like the one in October are often transformational. "The ideas that teams come up with are usually thoughtful and actionable, and I also see that the competitors have a new kind of confidence that big problems can be addressed—that you don't need a slew of special credentials or a big bankroll to solve a problem. You do need creativity. It's powerful to watch."
Liberty's sponsorship of the event is part of a larger transformation at the insurer to create a fast, flexible and agile organization that leads change in the industry by incubating new ideas and deploying new technologies, said Liberty's Robert Taylor, VP and Senior Corporate Counsel. "We're using out-of-the-box approaches such as design challenges like this one to test new ideas and more quickly take them from ideation to creation," he said. "The legal industry is not immune to the impact of technology and in a world where we can't predict the future, and new competitors can come from many directions, we need to embrace changes and reconfigure our priorities in real time."
In the fall of 2018, Suffolk Law was ranked number one in the country for legal technology by PreLaw Magazine. It was also honored among the 20 Most Innovative Law Schools by National Jurist. Just a few of the innovations drawing national acclaim:
The law school has three Fastcase 50 legal innovation visionaries—David Colarusso, Director of the schools LIT Lab; Prof. Teninbaum, Director of the LIT Institute; and Dean Andrew Perlman. Perlman recently served as chair of the ABA's Center for Innovation. Colarusso and Teninbaum were both named to the ABA's Web 100. ABA Journal described Teninbaum as "perhaps the most tech-savvy law professor in the country."
In business since 1912, and headquartered in Boston, Mass., Liberty Mutual is a leading global insurer with operations in 30 countries and economies around the world. Liberty Mutual is the 5th largest global insurer based on 2017 gross written premium, with nearly 50,000 employees in 30 countries and economies around the world. The company earned the 68th spot on the Fortune 100 list of largest corporations in the U.S., based on 2017 revenue.
Contact
Greg Gatlin
Office of Public Affairs
617-573-8428
Ben Hall
Office of Public Affairs
617-573-8092