Committed to Her Country
Big Data and Business Analytics major hopes to use back home what she learns here.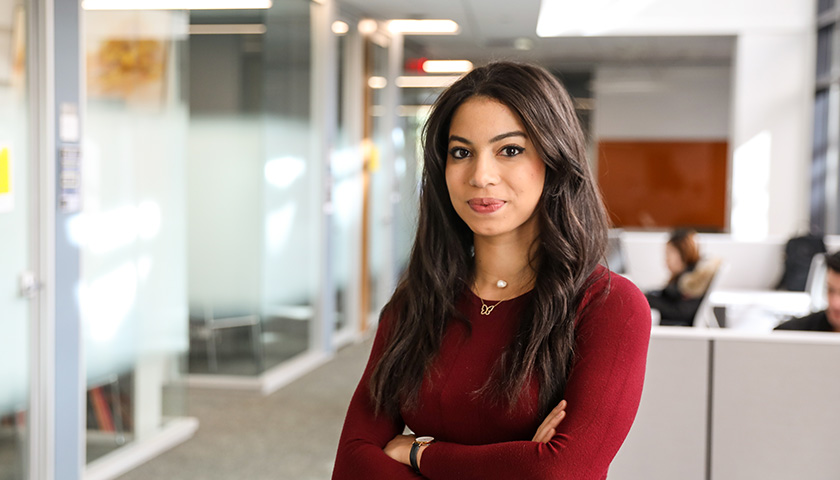 Amina Benzakour Knidel, Class of 2020, is passionate about helping her home country of Morocco.
Her goal is to take everything she's learning as a Big Data and Business Analytics major and bring that knowledge home.
"Big data is not in wide use on a national level in Morocco," Benzakour Knidel says. "But the country could use it to solve real problems, based on fact and sound decision-making. That's why I want to bring 'big data' thinking back to my country."
It won't be easy. Although it's the fifth largest African economy by GDP, Morocco is classified by the United Nations as a developing country, one that suffers from high unemployment, poverty, and illiteracy. But Benzakour Knidel is optimistic.
"A lot of Morocco's development will depend on its youth getting interested in public service and social action," she explains. "I see the potential."
Kismet
The impact of random events and what you do with that impact is something Benzakour Knidel has experienced firsthand. She initially had planned to go to school in England, but, in a twist of fate, decided to come to Suffolk. Once here, she started majoring in Entrepreneurship. Then a one-off podcast about design thinking in a Big Data class suddenly opened her eyes to the potential of information and its effect on the world. So she switched majors and has found her calling.
"Big data has taught me that the parts of life under your control can be manipulated to optimize your future," Benzakour Knidel says. "Knowing your past experience will help you moving forward. It's very philosophical!"
Even though Benzakour Knidel will be going back to Morocco as soon as she can, she's not impatient: She enjoys being in Boston and going to Suffolk. Along with focusing on her studies, she tutors other students and leverages her international experience as vice president of the Suffolk Model UN.
"I love what I'm doing here and love the fact that people are very hard workers and that I'm learning so much," Benzakour Knidel says. "But I have more to offer in my country than I do here. Here I learn. There I can teach."
Contact
Greg Gatlin
Office of Public Affairs
617-573-8428
Ben Hall
Office of Public Affairs
617-573-8092