Stocks & Bonds, Eggs & Bacon
Summa Breakfast gives alumni an opportunity to network and learn what's going on in the global economy.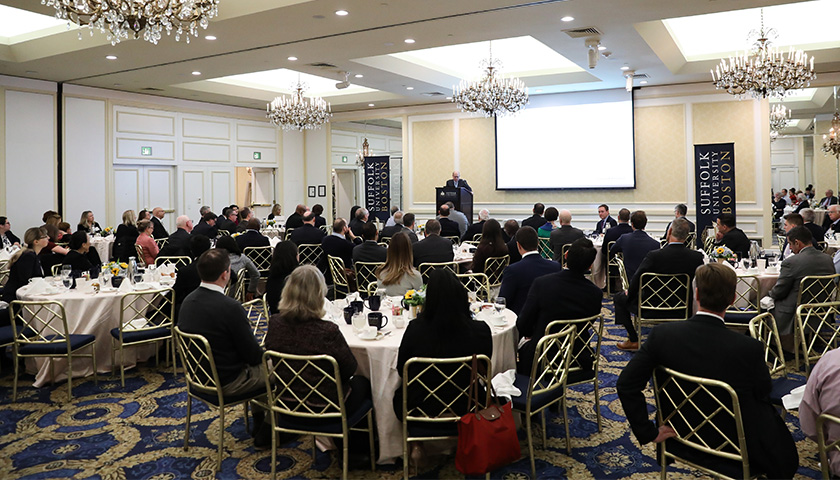 "2018: A Year to Forget."
That's what Ken Taubes, MBA '84, thinks of the markets up to that point in 2018. He would know: He's chief investment officer, U.S., and a portfolio manager at Amundi Pioneer Asset Management, Inc., which has about $85 billion in assets under management.
As the featured speaker for the inaugural Summa Breakfast event, hosted by Sawyer Business School Dean William J. O'Neill, Jr., Taubes gave an update of where the global economy has been and where he thinks it is going. Talk about topical: The day before, the Dow had dropped nearly 800 points, so finances were on people's minds even more than usual.
Despite that drop and despite the headwinds on stocks, bonds, oil, and housing, Taubes was upbeat about the future of the global economy.
"The dollar's been strong, and the economy's fine," he said. "In the macro sense for consumers, it hasn't been this good in a long time." He also thinks GDP will slow, which will take the pressure off inflation and the need for future interest rate hikes from the Fed.
His overall advice to investors? "Turn off the noise and look for opportunities."
Something new from Summa
The Summa Society celebrates the importance of giving to Suffolk University, a point emphasized by the closing speaker, Christine Diarbakerly, BSBA '10, JD '13, a Summa contributor who's also a member of the Sawyer Business School Alumni Board.
"Summa donors play a vital role in ensuring the University continues to excel each year," she said in thanking current members and encouraging new members to join.
But this was the first time the Summa Society has sponsored this kind of event, which drew 100 people. It's part of Suffolk's ongoing push to increase engagement with alumni and future alumni who are deeply committed to the University.
"Summa has always honored alumni who are philanthropic leaders. We also think it can serve a vital role in deepening the connection between the University and our alumni network," said President Marisa Kelly. "With Summa events like this, we're excited to create new opportunities for alumni to come together, share knowledge, and get to know each other—and the University—better."
Alumni in attendance appreciated the opportunity to learn something over breakfast and connect with fellow Rams.
"The speaker was fantastic, and the chance to network was like icing on the cake," said Larry Buchsbaum, MBA '84. "When you get something from what's being spoken about but also meet people, follow up, and have conversations later, I think that's the true essence of a successful event."
Contact
Greg Gatlin
Office of Public Affairs
617-573-8428
Ben Hall
Office of Public Affairs
617-573-8092