Women Helping Women
"Women Leading the Way" event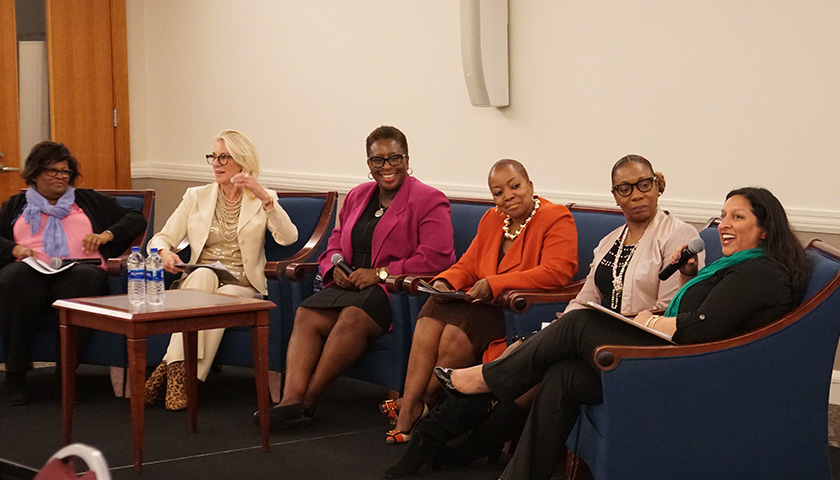 Women Helping Women
The stage is set for women to step up, be leaders, and stare down injustice.
This was the prevailing message at the "Massachusetts Women Leading the Way" luncheon and panel discussion hosted by the Sawyer Business School's Institute for Public Service.
Framingham Mayor Yvonne Spicer set the tone of the day in her keynote speech when she asked the nearly 100 attendees: "How do we help each other?"
In the wake of #MeToo and the Kavanaugh hearings—and on the eve of this month's midterm elections—Spicer emphasized the notion of female solidarity.
"We are standing on the cusp of change right now," she said. "And women have got to learn to be each other's best friends. I believe the power of us, collectively, is greater. I feel like this is our time to make a difference. We've built homes, raised families, multitasked with three or four or more responsibilities. We know how to do this work. We know how to lead."
Helping each other
Sonia Alleyne, a nonprofit adviser and lecturer in the Public Administration program, organized the event with the goal of bringing women together to share stories and information and to pass along a message of empowerment to students and alumni.
"The takeaway of the event is that women should be helping other women, no matter what level they're at," she said. "How do we do that? What are the best practices? What are the things that have worked with these leaders?"
A panel discussion with Wakefield Town Councilor Mehreen Butt; Jackie Glenn, a diversity and inclusion strategist; WGBH Executive Producer Delores Adrian Edwards; and the Honorable Amy Nechtem, JD '85, chief justice of the Juvenile Court and a Suffolk University trustee, addressed the workplace, challenges they have encountered, and what they felt were the most important issues facing women these days.
With both humor and pathos, audience members joined the panelists in sharing anecdotes about their experiences.
"The minute the luncheon was over, people there were asking me, 'When's the next one?'" said Alleyne, who hopes to make the conversation about these issues a regular feature at the Business School.
Contact
Greg Gatlin
Office of Public Affairs
617-573-8428
Ben Hall
Office of Public Affairs
617-573-8092