Big Idea Wins Prize
The Liberty Design Challenge brings law and business students together for collaborative solutions.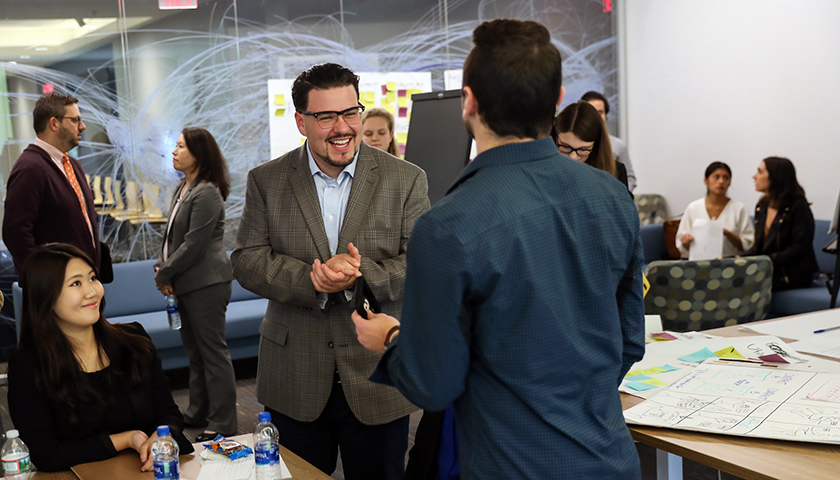 Suffolk University Law School hosted the second annual design challenge presented by Liberty Mutual Insurance in October. The competition offers the entrepreneurial creativity of ABC's Shark Tank, without the aggressive vibe of the nationally televised show. It brought together students from Suffolk and Northeastern Law Schools, as well as Sawyer Business School. They were teamed up to prototype products to solve legal and, often, societal problems.
The winning entries, using the tenets of design thinking, put an emphasis on simplicity, usefulness, and the needs of the end user. The teams have only one day to generate their ideas; that time pressure tends to spur creative solutions to legal service delivery challenges.
Would you use this browser add-on?
The first prize of $1,000 went to a team that came up with a browser add-on prototype. Users of the tool would see a screen showing potential exposure to privacy risks from websites they were visiting. The judges found the idea persuasive for its topical nature, educational value, and impact on people regardless of age.
The second-place team developed a database for IP attorneys to crowd-source information about patent law. The information would be presented simply so that people without a legal background could understand the basics. Because of the crowd-sourcing element, less time would be spent by a legal team in getting up to speed on the often-complex science behind a patent application or enforcement.
Danielle Breen, JD '21, said she learned a lot from interaction with business students on her team. "It was enlightening to hear their thought process on contracts," she said. "As a 1L, I tend to look at contracts with a technical, fundamental mindset, whereas the two business students I worked with considered logistics around contracts that might impede the speed of business and profit."
Breen's team came in third place with a piece of software that could analyze contentious sections of contracts to increase transparency in the negotiation process.
Each team had to leverage two domains as it identified opportunities to improve the client and attorney experience. The domains included: automation, data driven law, digital law, segmentation, legal education, and process and demand management.
Lawyers need help from other disciplines
Kelli Proia, founder of Lawducate and an adjunct professor at Suffolk Law, served as one of the judges. She said that lawyers need help from a wide range of disciplines to solve the complex problems facing the legal system—like access to justice, automation, and privacy.
"The team that won the challenge today exemplified that," she said. "All of the other teams tackled a law-specific problem." The winning team however, she noted, "tackled a societal problem, online privacy, with a legal spin. This was a great example of fixing a legal problem to get at a larger societal issue."
The other judges were Henriette Campagne, vice president of editorial at Massachusetts Lawyers Weekly; Liberty Mutual's Mike Stevens, JD '07, assistant general counsel; and Sammi Elefant, JD '18, an associate in Liberty's attorney development program.
Jeff Marple, director of legal innovation at Liberty, led the participants through design thinking exercises during the challenge. Marple found the success of the event could be measured by what participants were able to walk away with. "We hope that by taking students on this full-day journey, it will allow them to tackle issues in the future in new ways based on the skills they learned."
"Liberty Mutual's commitment to innovation is personified through its practice and sponsorship of design challenges," Marple said. In October, Liberty conducted an internal legal design challenge for more than 40 professionals in the legal department. Robert Taylor, vice president and senior corporate counsel at Liberty Mutual, leads the Legal Ideation and Transformation Department. Taylor organized these design challenges to promote a culture of innovation across the legal department and for law students. "Innovation is a team sport, and Liberty's commitment to fostering innovation for a hundred-year-old insurance company relies on events like these to let talent work in teams and develop ideas," he said.
Ranked number one in legal technology
Suffolk Law was recently named one of the 20 Most Innovative Law Schools by National Jurist. That publication also ranked Suffolk Law number one in the nation for legal technology. The school launched the nation's first legal technology and innovation concentration and has its own R&D arm, the LIT Institute. Suffolk's Accelerator Program won the ABA's top honor for innovations for improving access to legal services for moderate-income people.