A made-up embezzlement case that, for students, seemed very real.
It was like something out of "Law & Order."
(Pling-Pling.)
At the end of the fall 2018 semester in the Suffolk Law School Moot Courtroom, lawyers deposed Accounting and MBA students in a simulated embezzlement case. Earlier in the semester, the students had interviewed a plaintiff and a defendant. They had gathered evidence, written memos and reports, and crunched numbers to try and figure out how much money had been stolen from a fictional company. They were in court that night to give their testimony.
The students took the witness stand one after another. The plaintiff's attorney, Accounting Professor Martino Coviello, BSBA '97, MSCJ '04, calmly walked each one through the interviews and evidence. The defense attorney, Walter Nalepa, JD '12, tried to rattle the students by questioning mistakes and poking holes in their stories. The proceedings were presided over by a black-robed judge, Tracey Riley, chair of the Accounting Department.
"A forensic accountant needs to keep a mindset that everything he or she does will, at some point, be scrutinized in a court room," says Coviello, who teaches the "Forensic & Investigative Accounting" course and is a special agent with the IRS. "So students need to understand not only courtroom procedures, but also withstand the scrutiny of a defense attorney. It never really clicks until you're actually in a courtroom."
The verisimilitude worked. During breaks, students who had testified looked visibly relieved—exhaling en masse—while students waiting for their turns looked like deer in headlights.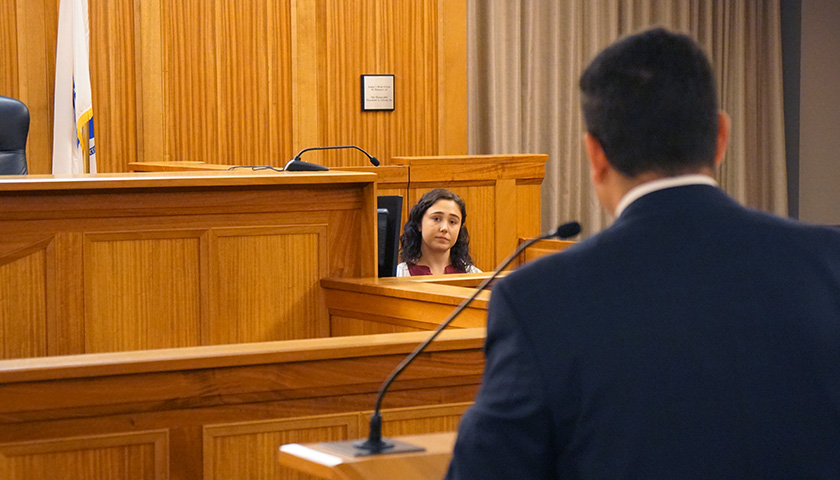 Their day in court
The defense had one goal: to question the credibility of the student investigators and spread doubt about their abilities. He certainly did his best to trip them up by making them read specific paragraphs from their memos, questioning their memory of dates, and asking details of their interviews.
"You might have missed a date on a memo or you might have misplaced your notes," says Coviello. "And that doesn't seem like a problem until you're in a courtroom and a defense attorney makes a big deal out of it. He's trying to instill doubt in the minds of the jurors by asserting that if you made a mistake on that stuff, then you must have made a mistake elsewhere in your investigation."
When the questioning was over, students slunk away from the witness stand with a new appreciation for how serious forensic accounting can be.
"What was really nerve-racking was not knowing what the other side was going to ask you, because you couldn't prepare for that," says Hannah Lunetta, BSBA '18, MSA '19. "We all knew the case by heart, but when we got onto the stand, we didn't know what to say."
Many of the students in this class will volunteer at the Suffolk Free Tax Prep Clinic, which helps international students from around Boston file their taxes—and keep their visas.
Contact
Greg Gatlin
Office of Public Affairs
617-573-8428
Ben Hall
Office of Public Affairs
617-573-8092