MLK reception features keynote by William Gross and honors president of the Caribbean Student Network with Creating the Dream Award.
Boston Police Commissioner William G. Gross commended students and Bostonians for taking on causes by "using your voices of logic, not the ignorance of destruction" – a value he said he learned from his grandmother growing up on a farm in Maryland.
Speaking in the historic African American Meeting House on Beacon Hill as part of a Suffolk University event honoring the life and legacy of Dr. Martin Luther King, Jr., Gross, Boston's first African American police commissioner, recalled how tens of thousands of peaceful protesters marched on the Boston Common after the tragedy in Charlottesville, Va., in the summer of 2017. He said by peacefully coming out en masse, those marchers drove hate from the Common. Referencing lessons learned from Rev. Martin Luther King, Jr., Gross said "We used our voices together."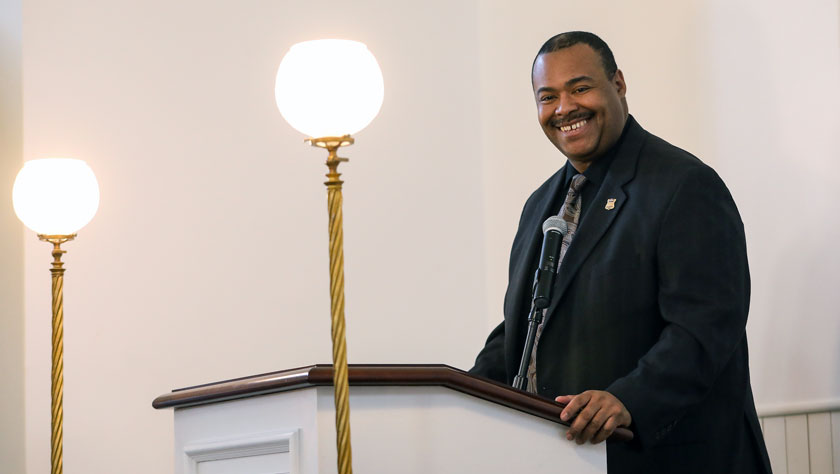 "I always loved Boston's protests, and here's why," Gross said. "Not once have you seen on the news when our brilliant young men and women march, not once have you ever seen anything broken, anything burning, anything looted. You always use your voices of logic, not the ignorance of destruction."
In remarks that were rich in history and appreciation for leaders who had paved the way, Gross described a city that is increasingly inclusive, with growing diversity at leadership levels, and yet with a great deal of work still to do on that front.
Gross described growing up "dirt poor" on a farm in Maryland. He recalled getting into a fight in kindergarten and how his grandmother responded by teaching him to fight with his brain rather than his fists – a lesson he later brought with him to Boston neighborhoods and his approach to community policing.
Gross recalled being a 21-year-old cop in Boston in 1985 at a time when "the police culture was to lock up everybody. How many arrests have you made? How many tickets have you written? What do you mean people are telling you what to do? You tell them what to do. You're the police," he recalled, adding, "But there were a group of us that were led by forward-thinking individuals who said, 'No, that's not the way.'"
He recalled being at the scene of countless homicides during the height of the crack epidemic in Boston in the 1990s. "Those were tough years. Trust me folks, back then, no one was really getting it. Clergy weren't even getting along. Neighborhoods weren't getting along, the police department, the judicial system."
"So guess what happened. Just like a meeting in church, people started to talk, and realize this is our city. This is what we have to do. We have to work with each other. And people started working together."
The Boston Police Department (BPD) began fully engaging in community policing strategies. "We started listening to the people and changed our warrior class culture to, 'Hey, we're going to listen to you about how you want to be served. We're going to listen to you for true intel."
"You have the badge, you have the gun, the power of deprivation of freedom. But can you use your common sense, where you have empathy, sympathy, care and respect? Treat people how you want to be treated. Like grandma (said), use your sense and de-escalation. Step back, if you can. Step back and talk. Nothing wrong with that."
Gross noted that the BPD has been praised as a national leader in community policing, though getting there wasn't easy. "You cannot after decades and decades of exclusion and just ill will toward neighborhoods of color… you can't expect to come in and say, hey let's work together." He said it took years to "strengthen the bridges over miscommunication and mistrust" and "convince people that we want change."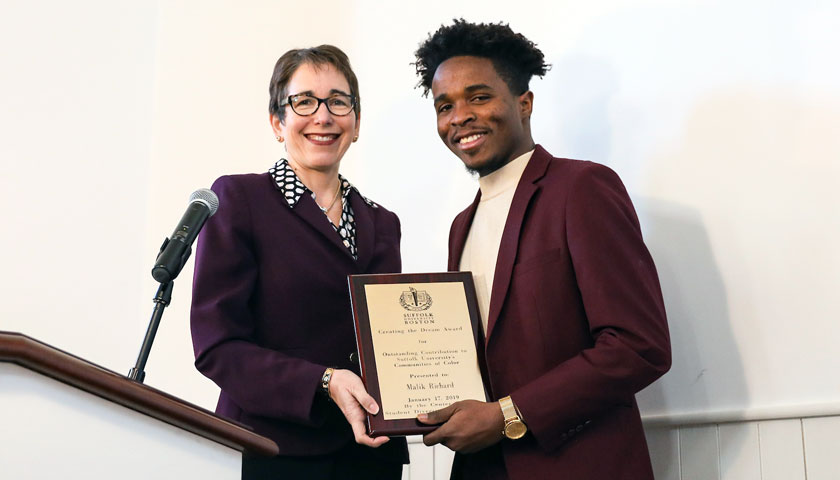 Gross' remarks followed the awarding of the University's annual Creating the Dream Award, which honors the continuing dream of racial equity and collective liberation that Rev. Martin Luther King, Jr., spoke of in his "I Have a Dream" speech during the 1963 March on Washington. The award recognizes efforts of an individual, organization, or department within Suffolk University that works toward creating an inclusive, respectful, and safe climate for members of the University community, with a sustained and tangible impact on Suffolk's communities of color.
Suffolk University President Marisa Kelly awarded the honor to Malik Richard, a Suffolk senior and president of the Caribbean Student Network, vice president and co-founder of the Fundamental Brotherhood Society, and a co-founder of the student group Unspoken Feelings. Kelly praised Richard for his work mentoring students as a resident assistant and connecting students of color to various groups, people, and leadership roles. Wrote one nominator: "When you think of someone who always wants to change the world my mind automatically thinks of Malik Richard. I never believed in superheroes, but if I had to believe in one it would be him."
"Malik is a doer. Malik is a leader," Kelly said. "I am proud he is a student in our community and proud he is being awarded this honor here today."