Service: A Calling, A Career
A public service professional shares advice—and the secret to successful fundraising—with the Sawyer Business School.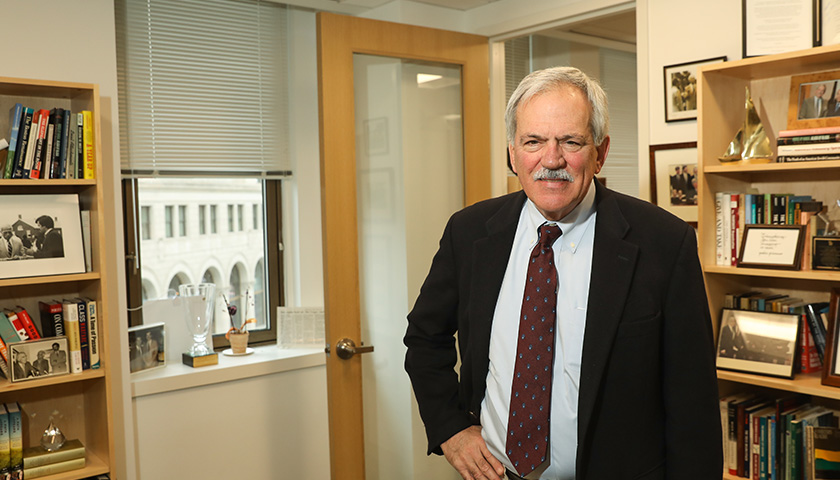 As the leader of the Boston Foundation, one of the oldest and largest community foundations, Paul Grogan understands the importance of civic leadership. Not only does the Foundation pay out over $100 million in grants to nonprofit organizations each year, it helps connect researchers and experts with community organizers, influencers, and policy makers throughout eastern Massachusetts.
Grogan is now working with the Sawyer Business School's Institute for Public Service as the Public Administration program's first distinguished lecturer, sharing with students, faculty, and alumni the expertise and insight of his more than four decades of work in public service.
Q: You were the speaker at the Sawyer Business School's 2018 Commencement. What's it like to be more closely involved with the University through the Institute for Public Service?
Paul Grogan: I hadn't spent that much time at Suffolk, so it's been a welcome opportunity for me to get to know the school and some of its unique dimensions, like the Public Administration program. I have an appreciation that I didn't have, and I really hope that leads to some additional things. It's fun to talk about these issues with young people who are really interested in public policy.
Q: In your Commencement speech, you asked graduates to "be unreasonable." When have you heeded that advice yourself?
PG: One thing the Boston Foundation has been very involved in is education reform, particularly the whole issue of charter schools in the City of Boston. It's been very controversial. The Foundation had a standard approach for years of supporting the Boston Public School System. After a long career in public development, I came here and was not convinced that incrementally changing the system was going to lead to significant improvements. So after doing a study, we made the decision to support charter schools. There were some people who were very upset about that, including the late Mayor Menino, the superintendent, and the school committee. It's uncomfortable to have the mayor mad at you! What I've been telling the students is that if you want to be a change agent and improve society, it's very important to understand that it will come with discomfort.
Q: What are the challenges for people who want to be change agents these days?
PG: One of the challenges is that there's quite an aversion to working in government on the part of a lot of young people. Government has a pretty negative image. Far more people want to work for something like the Boston Foundation, a nonprofit organization that they don't see as tainted by politics or bureaucracy. The problem with that is, government is really crucial to doing any of the things that need doing. So if you can't tolerate how government operates and you're not willing to forge relationships with key people, it's a way of marginalizing yourself.
Q: Everyone knows the importance of public service. Talk about public service as a career choice.
PG: One of the unique features of this country is the size of the nonprofit sector. It's just huge compared to other developed societies where government is much bigger. What that means is there are a lot of careers in public service, and it's possible to make a good living if you can get yourself into a leadership role over time. It's kind of a trade: you're going to make less money than you would in a comparable business career, but it might be easier to have the soulful satisfaction that most human beings crave.
Q: The Boston Foundation took in over $200 million in donations in the last fiscal year. What's the key to being a successful fundraiser?
PG: The secret to raising money is to recognize that it's an act of persuasion, like getting a piece of legislation passed. A case has to be made that focuses on what difference this will make if it goes forward and to be vivid as opposed to abstract. The other key to successful fundraising is to learn to like it. A million times I've heard other nonprofit leaders say to me, "I love everything about this job but the fundraising." That's the wrong attitude. You have to get excited about that making that act of persuasion successful. People have to realize that it isn't a necessary evil, it's really important. And it's fun! I've always enjoyed raising money. My mind game is that if I get a "no" I'm just that much closer to the next "yes."
See Paul Grogan's speech at the Sawyer Business School 2018 Commencement.
Contact
Greg Gatlin
Office of Public Affairs
617-573-8428
Ben Hall
Office of Public Affairs
617-573-8092