Easier than ever to tune in one of Boston's best broadcasts
People looking for a snapshot of the Suffolk zeitgeist need go no further than their streaming devices and check out Suffolk Free Radio, aka, WSFR. The radio station just made the move to a better web platform, which makes it easier to stream and gives the station more opportunities to connect with listeners.
Vinyl LPs and 45s are long gone. CDs have been usurped. And across much of the dial, the "person" choosing your song may be an algorithm housed in a server in Burbank, California. But there's still magic to be heard whenever a Suffolk DJ walks into the WSFR booth in Sawyer, fires up the "On Air" light, and introduces the next program.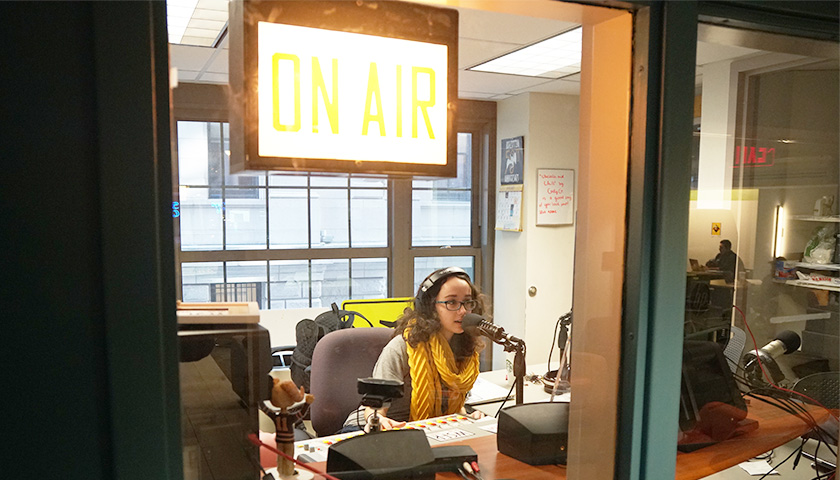 You might hear "Cut The BS," in which first-year students Bailey and Sarah talk about anything pop-culture related in the music industry. Or there's music from Devil Boy Z and The Trickster every Friday afternoon on "A Little Bit of Everything (with The Devil Boys)." Sports commentary? Tune in "Don and DeAngelis," WSFR's top-rated show. There's also the popular "Acoustic Sundays," a showcase of local artists and upcoming bands. For an aural smorgasbord, WSFR certainly sets the table.
Although the student-run radio station has been a part of the Suffolk community since 1976, first as a closed-circuit broadcast entity and then an online station, it's only in the past year or so that the station's visibility has increased, not just on campus but across Boston and throughout the entire global Suffolk community. That's due in large part to the hard work and vision of General Manager Allyssa Delvecchio, Class of 2020. She and her team have made it their mission to transform a sleepy online station into a fixture of the crowded Boston radio market, one that can compete with commercial stations like "92.5 The River" and WERS, the revered FM station of Suffolk's next door neighbor, Emerson College.
Radio Renaissance
While purists herald the increase in online radio stations as the death of broadcasting, a web-based station actually makes more sense for how listeners get their content in today's streaming world. Which is why, according to The Economist, radio is having a bit of a renaissance.
"Everyone streams their music," says Delvecchio. "So having Suffolk Free Radio as an online selection along with Spotify and other streaming services makes it very easy for listeners to include us in their lists."
The station is also planning to start streaming podcasts, Delvecchio says. That means when listeners search the list, they also can look through other content WSFR produces. "It's a way to increase the time people spend with Suffolk Free Radio," she says.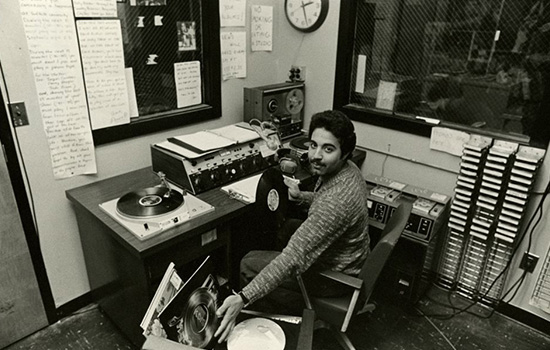 The new website also means the station can build a stronger community among its listener base and engender loyalty.
"On the old platform, we couldn't post much information other than the fact that we were streaming at that moment," says Promotions Director Bailey Dunlap, Class of 2021. "It's nice now to look and see when a particular radio show is on. You also have a direct link to our social media. And you're able to learn about ticket giveaways right away. It's all in one place now."
Since moving to the new platform on January 15, 2019, WSFR has already seen a spike in listenership. And that means upcoming plans will have even greater impact. They're going to start posting podcasts on iTunes. They've partnered with the Boston Calling music festival to give away tickets later in the year. And they're planning a big event to help the Boys & Girls Club of Charlestown, which just started its own radio station. The promotion is called a "Lock In," which means DJs are locked in the station and can't stop broadcasting until they raise money for the cause.
In a world where music choices are increasingly homogenized—think of all the stations that play Taylor Swift, Post Malone, or Counting Crows 20 times a day—WSFR provides wide-ranging options for a discriminating and adventurous audience, broadcasting from right next door.
Listen to Suffolk Free Radio now.
Contact
Greg Gatlin
Office of Public Affairs
617-573-8428
Ben Hall
Office of Public Affairs
617-573-8092