First-year student seizes hands-on learning opportunity
A recent class field trip to the MIT Nuclear Reactor Laboratory piqued first year chemistry student Aleksey Demidenko's interest. The flyer he picked up on his way out just might change his life.
Demidenko took the flyer – advertising a nuclear-operator-in-training position – back to his dorm, applied, and was hired.
"Nuclear science is jaw dropping," said Demidenko, class of 2022. "While visiting the reactor, I realized that I had many misconceptions about radioactivity and nuclear energy."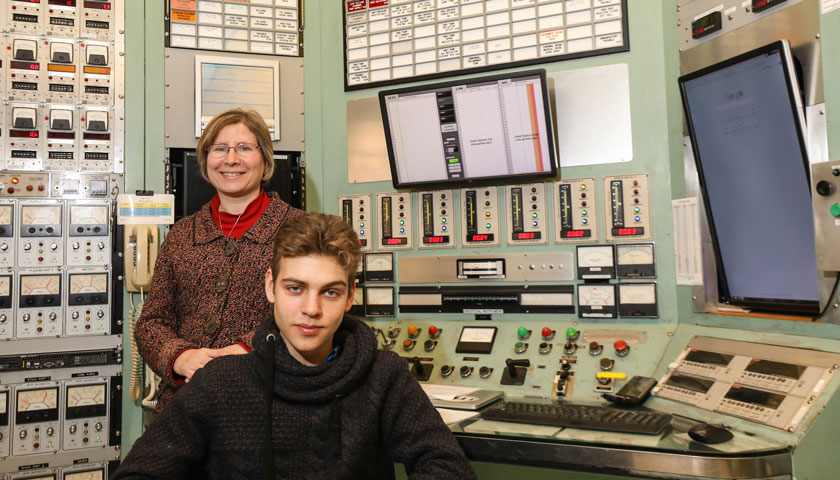 Before his first day on the job, Demidenko had to go through an extensive application process, which included interviews, references, and an FBI background check.
He understands how serious it is to be working at the nuclear reactor site, and he is motivated to learn as much as possible and prove himself.
"Many people don't know their full capacity until they try something that really challenges them," said Demidenko, who is originally from Russia. "This will be a great opportunity to test myself in a very intense environment that will push me to learn new things and try my best."
Demidenko's training program requires him to learn the complete layout of the reactor, comprised of many beams, coolers, and pipes. He must digest volumes of information and take tests nearly every week.
In September he will take a test to get his license as a nuclear reactor operator.
Demidenko's trip to the MIT lab was part of a Seminar for Freshmen course "Sustainability, Energy and Technology." The visit was an eye-opening experience that, through his current training position, may lead to a future career.
"This is really what I wanted out of college – to take advantage of an opportunity like this. I want to learn all the details of the reactor and become a professional in this field."
Aleksey Demidenko
Class of 2022
Engineering Professor Lisa Shatz has been taking her students to visit MIT's Nuclear Reactor Lab for twenty years and says that Aleksey is the first one to actually land a job there.
"I was beyond thrilled when he told me he got the job because I know how engaged he is about the subject matter and this opportunity," said Shatz.
"Aleksey pushes himself in everything he does, and he goes above what is expected of him. He now has the best of both worlds – learning as a student at Suffolk and working at MIT in an area that he is so passionate about."
Demidenko says that while everyone is supportive of his nuclear reactor gig, his roommate remains a bit concerned.
"He told me that he hopes that I don't glow at night," he said with a laugh.