Happy Birthday, MBA
Program will celebrate its 70th anniversary in spring 2019.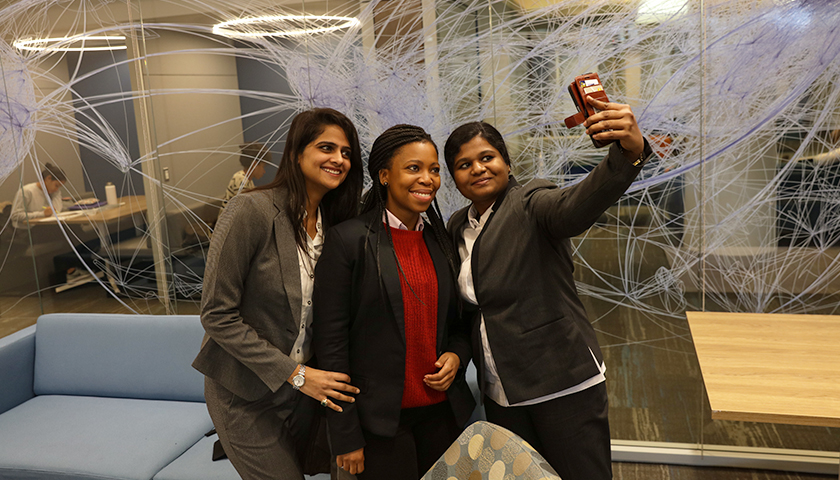 The year was 1949. NATO was established. The Volkswagen Beetle was first sold in the US. Ted Williams hit his record-breaking 223rd career home run. And "Death of a Salesman" premiered on Broadway. In addition, the Master of Business Administration program (MBA) was established at Suffolk University.
Since then, approximately 10,000 women and men have earned an MBA at the Sawyer Business School. They've developed entrepreneurial and critical thinking skills. They've traveled the world to understand other business cultures. And they've learned how to succeed in a multitude of careers, from high-tech to healthcare, start-ups to Fortune 500 companies.
To commemorate the 70th anniversary of the MBA, the Sawyer Business School and Dean William J. O'Neill, Jr., will host a celebration event from 6-8 p.m Thursday, April 4. Alumni will come back to campus and reconnect with current and former faculty and staff, fellow graduates, and MBA students. The event will also feature short talks on trends by the following Suffolk alumni who are leaders in their fields:
Ken Taubes, MBA '84, chief investment officer, Pioneer Investments
Abe Ceesay, MBA '05, chief executive officer, Tiburio Therapeutics
Ali Nemser, MBA '16, senior inbound growth specialist, Hubspot
Kate Hennigar, MBA '10, HR director, Culbert Healthcare Solutions
In addition, Suffolk is establishing an MBA Fund that will help support current MBA operations and initiatives, including travel seminars and internship programs. A portion of the evening's registration fee will be added to the fund, and alumni who can't attend are invited to contribute to the fund, the first of its kind for the MBA program.
"Suffolk was founded on the notion of giving back to students," said O'Neill. "So we're especially excited in this 70th year of the MBA program to establish a fund that will help us deliver a high-quality learning experience to business students for decades to come."
All MBA and other Sawyer Business School alumni are invited to attend the event. RSVP here.
Contact
Greg Gatlin
Office of Public Affairs
617-573-8428
Ben Hall
Office of Public Affairs
617-573-8092