Back to the Studio
Alumna Breana Pitts, now a reporter for WBZ-TV, revisits Studio 73 on air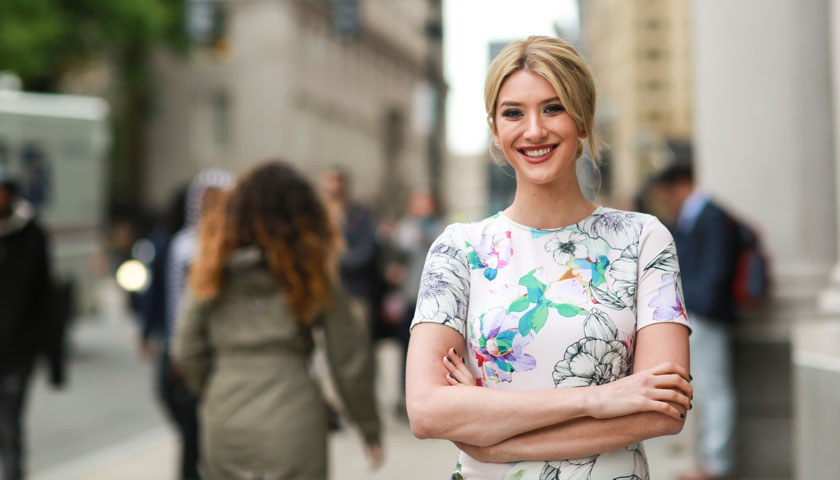 Eight years after making her live television debut as a student reporter on a New England Cable News (NECN) Suffolk in the City segment, Breana Pitts was back on camera in Studio 73. This time it was in her role as a reporter for WBZ, filming a piece for the CBS affiliate's #inspiration series.
Pitts reunited with Studio 73 manager Jerry Glendye and Journalism Professor Shoshana Madmoni-Gerber to talk about her time at Suffolk and its impact on her career. She recalled getting "wicked nervous, deer in the headlights" during her first live segment for Suffolk in the City -- a program that gives Suffolk students weekly on-air reporting experience on NECN -- and how Suffolk helped her understand the television industry and gave her the tools to succeed.
"My first time to anchor, that was a very real moment for me," said Pitts, Class of 2012.
"I gained so much from being here. [Glendye and Madmoni-Gerber] are just so important to me in that sense. You really helped me feel like I could do this."
That one time, @BrePWBZ "got wicked nervous." 😨 Breana reminisces with her journalism professors at @Suffolk_U . Who inspires you? #inspiration #WBZThisMorning pic.twitter.com/YSBbrINbUN

— WBZ | CBS Boston News (@wbz) February 14, 2019