Helping California Pizza Kitchen Make Some Dough
When is a restaurant chain not a restaurant chain? When it's California Pizza Kitchen, apparently.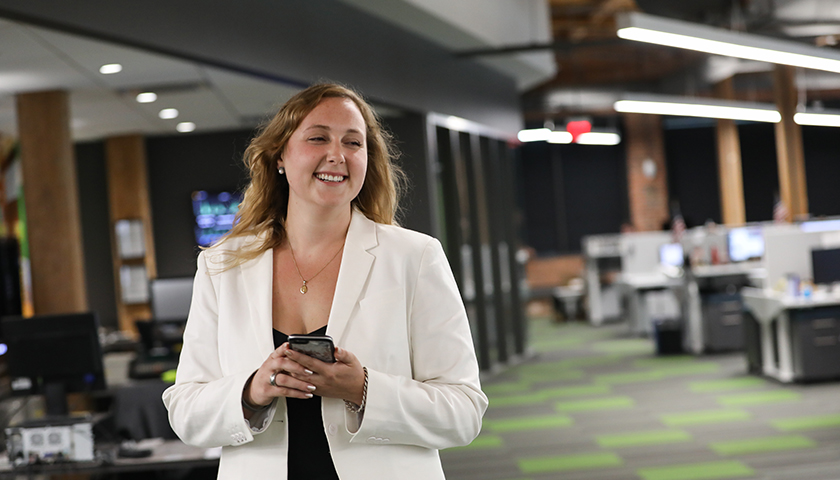 "I always say that CPK is really a tech company that just happens to sell pizza," says Jane Farrell, BSBA '15. She helps companies like CPK and Peet's Coffee develop custom apps that increase customer engagement and drive revenue. Farrell's role at Paytronix, based in Newton, Massachusetts, is to help shepherd an app through development, testing, and launch. It's a job that ties directly back to her Suffolk experience.
Farrell majored in marketing and minored in big data the first year that field of study was offered at the Sawyer Business School. She took several Information Systems and Operations Management (ISOM) courses, as well as coding and database management. She says those different disciplines directly contribute to what she's doing now.

"I got this position at Paytronix because I'd been exposed to a lot of technical stuff at Sawyer," she says. "But it also draws from my marketing classes as well. All the connections have been very relevant."
Driving loyalty…and more
These days, apps are much more than just digital loyalty cards. They've become essential tools in creating conversations with customers. When you order a salad at Panera, for example, the restaurant operator can message MyPanera members in real time and say: "Hey, thanks for trying that salad. Would you take a survey?" The company's goal is to connect every check to a specific person.

By offering these kinds of apps, companies have yet another way to bind customers and ensure loyalty. "The more ways you give customers to enroll in a loyalty program, the more successful your program will be," explains Farrell. "Mobile apps help with that."

Increasingly, they're also helping with the bottom line.

Another one of Farrell's clients, Taco Mac, saw incredible results after taking its loyalty program mobile. The company boosted guest registration 400 percent and saw loyalty guests spend 15 percent more than non-members.

"As we added a mobile app to our program, we quickly attracted a broader audience to the already successful program," says Chris Ray, vice president of information technology at Taco Mac Restaurant Group. "Guests are visiting and spending more, and the Paytronix platform offers so much that wasn't possible with our former loyalty provider. We're running new promotions and contests, using the dashboards to view results and make modifications in real time."

Farrell also has worked with CPK to develop Pay at the Table, which lets guests control the dining experience from the palm of their hands. One benefit? Diners no longer need to wait for the server to bring the check.

"It's the future of commerce, really," says Professor William Mee, one of Farrell's professors in Big Data and Business Analytics. "The trend is that you'll be interacting with cashiers and waiters less and less."
How we do business
At Suffolk, big data has become an essential part of the Business School curriculum. The first Big Data and Business Analytics course started in fall 2010 and then became part of the three-course minor in fall 2014. Beginning in fall 2017, it will be a required course in the Big Data Business Analytics major and the minor. What makes it all so vital is that the classes aren't just theory.

"Within our analytics classes, we use actual big data and analytics software from such companies as SAP and Tableau to perform analysis and present the results as analysts do at work," says Mee.

That kind of experiential pedagogy has been essential to Farrell's success at Paytronix.

"I was able to leverage my Suffolk education and exposure to analytics to land my job as a product owner. Every day I have to interpret data and make informed decisions for my products that affect the future of Paytronix. Suffolk gave me that confidence."
Contact
Greg Gatlin
Office of Public Affairs
617-573-8428
Ben Hall
Office of Public Affairs
617-573-8092