Community Cop
Earning a Master's in Public Administration to be a better policeman.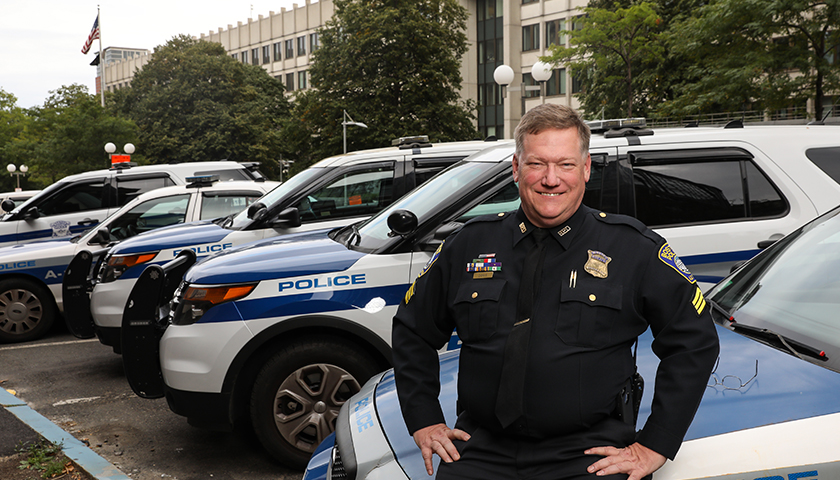 When a question about criminal justice comes up in one of his Master's in Public Administration classes, John Doris, MPA '18, doesn't raise his hand. That's odd, because Doris has been a Boston police officer for 32 years; he usually knows the answer. So why does he hold back?

"I'm always looking for what the other students are thinking and their answers," says Doris. "It helps me know the mood of the public at large."

"Knowing the mood" is one of Doris' chief responsibilities as a police officer. That's because he's the supervisor of the Community Service Office of the Boston Police Department.

Across nine Boston neighborhoods, his division deals with everything from car break-ins to the opioid crisis to college move-in day.

"Most of what we handle involves quality-of-life issues affecting the area," says Doris. "I work closely with community partners like other police agencies, other city departments, private entities, and nonprofits."

Now the 53-year old is back at school, getting his MPA at the Sawyer Business School after completing a certificate program in 2012. But why not a criminal justice degree? He is a cop, after all, and Suffolk has a whole Crime & Justice program through the College of Arts & Sciences.

"The MPA offers the wider view of government that I was looking for," says Doris. "I was drawn to how government intersects with other agencies; local, state, and federal partners; and private partners. This approach adds to a better delivery of services to citizens."
Police Pedagogy
Doris finds that he can bring his classroom experience directly into what he does for the BPD. "There are many times I've been able to apply something from class soon afterwards," he says. "One great example is Professor Brendan Burke teaching us about reframing organizations, which is really helpful because it explained how government works on the inside and outside. This is so important for my job because of how many outside entities I have to deal with."
It's a two-way street. While Doris takes what he's learned in the classroom and uses it across the city, he's also able to bring a lot to the class, something his professors appreciate.
"In-career students like John absolutely add a ton to the classroom," says Burke. "When they speak, suddenly they become the teacher and speed up the learning process for everyone in the room."
Doris is no stranger to Suffolk. For many years he's worked alongside members of the Suffolk University Police Department to help ensure that city-Suffolk relations are smooth. Even so, the division between student and sergeant can make for some interesting situations.
"Once I was at a community service meeting at Suffolk that was running long," says Doris. "All of a sudden, Suffolk University Police Department Chief Coletta stops the meeting, looks at me, and says, 'John, you need to get to class.'"
Broader Perspectives
This past summer, Doris joined several of his classmates on the Comparative Public Policy trip to Ireland. The weeklong journey gives students the opportunity not only to see how government agencies work but to do their own research projects as well. Naturally, Doris focused on community policing.
"I was able to interview the assistant commissioner of the Dublin Garda," says Doris. "It was very informative. They're doing some innovative things in Dublin, which gave me some great ideas that I want to pass along to my department. The trip definitely broadened my worldview of public administration."
Contact
Greg Gatlin
Office of Public Affairs
617-573-8428
Ben Hall
Office of Public Affairs
617-573-8092