Welcome to the Real World
Sawyer Business School students gain experience as they present their research to actual clients.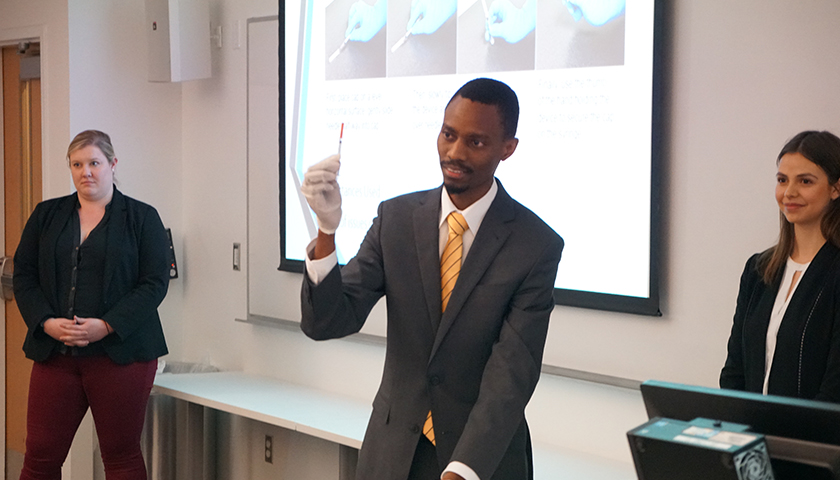 In many of the courses at the Sawyer Business School, students conduct research for and present to actual clients. Here are three recent examples of experiential learning at its best.
Experts in Their Field
Undergraduate students in Professor Müjde Yuksel's "Customer Insights and Decision Making" course spent a semester doing market research for Major League Lacrosse, a Boston-based independent lacrosse league with teams in nine American cities. The assignment was to help MLL executives figure out new ways to engage current fans and get them to games.
Unlike many presentations that happen on campus, the students went to the client. They hopped on the commuter rail to the Boston Landing transit station to present onsite at the Brighton headquarters of New Balance, one of the league's partners.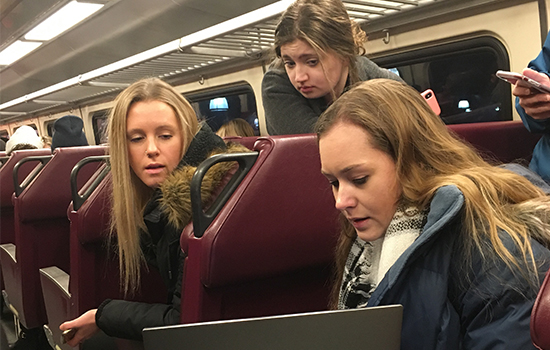 Recommendations included driving consistency across social media platforms; creating a youth ambassadorship for target fans (9-to-15-year-old boys); and establishing partnerships with companies like Coca-Cola.
"My team at MLL and the folks at New Balance were unbelievably impressed, not just by the content of the presentations but also the presentations themselves," says Carrie Gamper, director of marketing and events at Major League Lacrosse. "The students were professionally dressed, prepared, and able to clearly articulate the material in addition to answering all our questions. We were blown away by everything they put into it."
Gamper says many of the ideas the students presented aligned with initiatives Major League Lacrosse already had in the works. "It sparked all these creative ways to enhance what we're already working on," she said.
Device Advice
Jennifer Wiens, EMBA '18, is in charge of commercial and strategy development for a small medical device start-up, which she doesn't have a lot of bandwidth to do research.
So she came back to Suffolk and asked Professor Mark Lehrer's "Understanding World Class Clusters" class to help her company, Achaemenid, LLC. Lehrer assigned groups to address different problems, like investigating the global climate for the firm's supply chain or how to reduce needle sticks from syringes, which cost Massachusetts medical offices more than $685,000 every year.
"The presentations were very, very helpful," says Wiens. "One of the groups did so much legwork for me that I was able to get a project pretty much up to speed really quickly. That's extremely valuable."
Another group confirmed for Wiens what her team already suspected, which is that Mexico is the best place for her company to set up a manufacturing capability. "We're already in talks with different manufacturers in Mexico," says Wiens. "That's a big decision point for us, and the fact that this class was able to reaffirm that idea and guide me there faster was great."
Millennials at Home
Needham, Massachusetts-based Shark Ninja makes houseware products like blenders and vacuum cleaners. The firm wanted to better understand millennials and their "consumer journey to cooking and cleaning." Do these young people cook a lot? What do they like? Where do they shop? Do they cook alone? How do they clean their homes? How often?
The interesting twist was that Shark/Ninja wanted to compare millennials in America to millennials in China, a market in which it's looking to expand. Professor Jane Zhu's "Global Product Innovation" course was able to help.
That's because the course partners with Shanghai University of International Business and Economics. Teams of Shanghai U students work with teams of Suffolk graduate students throughout the semester on the same marketing problems. The classes are so closely aligned that they even meet simultaneously via video conference calls (8 p.m. in Boston, 8 a.m. in Shanghai).
Through interviews, research, and surveys, the teams were able to present a comprehensive snapshot of the different ways millennials cook and clean in the two countries. The teams even submitted videos of people cleaning their houses, which the client found incredibly helpful. Most importantly, the students started to understand what it takes to work globally.
"We'd been planning to do some in-home user research in China, because this is an important way we build our understanding of how to design great products for the China market," said Sabrina Svec, an engineering manager at SharkNinja. "And while this doesn't replace the need to do our own research, it definitely supplements it. Working with Suffolk students was a great experience, and it's something we hope to do again in the future."
Watch one of the research videos students prepared for SharkNinja.
Contact
Greg Gatlin
Office of Public Affairs
617-573-8428
Ben Hall
Office of Public Affairs
617-573-8092