Augmented and virtual reality tech brings storied sites into the classroom
Suffolk University students are surrounded by Boston's revolutionary history. Now virtual reality is making expertly guided tours of the city's landmarks possible without stepping foot outside the classroom.
The physics department has been busy since 2017 expanding its Augmented Reality/Virtual Reality (ARVR) project by collaborating with other departments. A new lab space enables them to teach students and faculty how to operate the equipment and create more interdisciplinary applications for the technology.
History Professor Robert Allison was intrigued by the possibilities presented by Physics Professor Walter Johnson and his team.
He brought the physics team and some of his own students on a tour of Boston's landmarks during his popular course "The History of Boston." Physics students Jack Thomas, Jackson Nolan, and Josh Tanguay joined their History major counterparts, including Devany Pitsas and Zane Hancock, to capture Allison's entire walk and lecture using 360-degree camera ARVR equipment. The result is a 3D panorama with expert commentary.
The 360-degree images and audio were loaded onto Oculus Go headsets to create an immersive sight, sound and motion experience that makes users feel like they are outside on the walk.
"You can have students who are not here participate by putting on the headset and it's as if they are here," says Allison. "This has great potential application as a way to teach 'The History of Boston' course to students from anywhere in the world."
While a headset tour will never replace the thrill of seeing Boston in person --walking in the actual footsteps of history -- it offers engaging background information and allows users to visit a day's worth of landmarks in minutes.
Thomas, Class of 2019, was amazed at how real the 3D images felt in the headset.
"We went to the Bunker Hill Monument and took photos the whole way up to the top," said Thomas, "When you put on the headset it's as if you're walking with Professor Allison during his lecture, hearing stories of the battles that happened there."
"I think the most exciting application of [this technology] is seeing these places in a new way and being able to see them again. You see things you might miss the first time. What we're always trying to do in history is give people the experience of having been there, recreating the experience," says Allison.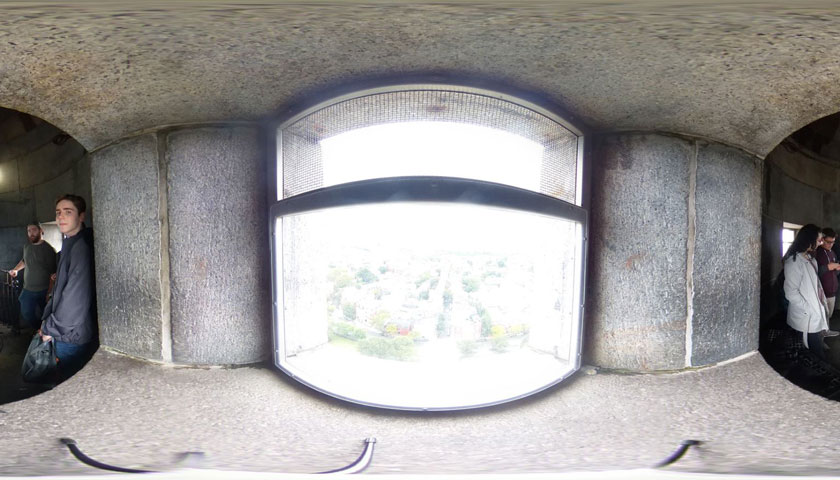 This year Nolan, Class of 2019, has mastered setting up, organizing, and understanding the different types of ARVR equipment. When he first came to Suffolk he had no idea he would be using this type of advanced technology so regularly and with such freedom.
"We actually get to get our feet wet, get our hands dirty, experiment with this technology as undergraduate students, which is pretty great," said Nolan, "It's not something that you're guaranteed or expect as a science student in other programs."
This fall the physics team also worked with Allison on panoramas of Revolution 250, an event in Boston that features reenactments of the events that led to the American Revolution.
On campus they're working on ARVR projects in physics, art & design, biology, and chemistry -- and more departments are reaching out.
Although it's been a lot of work so far, Johnson is excited to see how technology will change the way people interact and learn things at Suffolk.
"We realized about a year ago that this technology is something that students need to learn about," said Johnson, "Plus it makes it easier to do some things in the classroom, like teaching concepts that involve 3D visualization."
And Johnson's students are already thinking about the next step in the future of history education: They want to create an application for the iPhone or iPad that allows users to access details of historical monuments they encounter as they explore the city.