Alex Jacovides Shoots to the Top Spot
In the spirit of March Madness: which school boasts the NCAA men's most accurate 3-point shooter this season?
No, it's not Duke, Michigan, Gonzaga, or even any of the other Sweet 16 teams remaining in the Big Dance, for that matter.
The correct answer is Suffolk University and sharp-shooting sophomore Alex Jacovides, a 6'4" guard who connected on 53.8 percent of his total attempts (63 out of 117) this past season for the Division III Rams.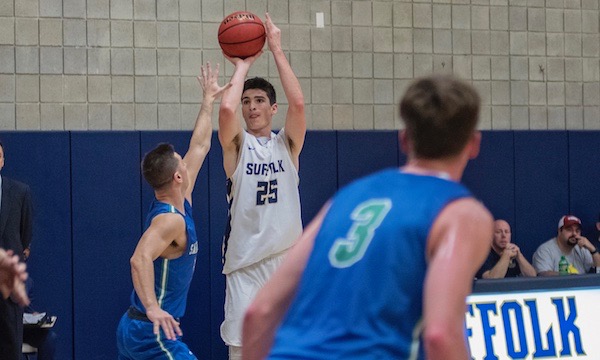 With his ability to consistently score from long distances, Jocovides posted the highest percentage of accuracy among all competing in Division I, II, or III, who had 100 or more 3-point attempts this season.
During the 2018-19 campaign, Jacovides, who hails from Tampa, Florida, averaged 12.1 points per game for the Suffolk Rams, who finished the season with a record of 18-8 after falling in the quarterfinal round of the Great Northeast Athletic Conference tournament.
"Alex is clearly gifted in his ability to shoot the ball, but he also works really hard to maximize that ability," said Suffolk head men's basketball coach Jeff Juron. "Most don't see the work that goes into it."
"If you step back and consider how many college basketball players there are in the NCAA, to be number one in any statistical category is a huge accomplishment."