Community Constituent
Healthcare Administration alumna to serve on the Boston Public Health Commission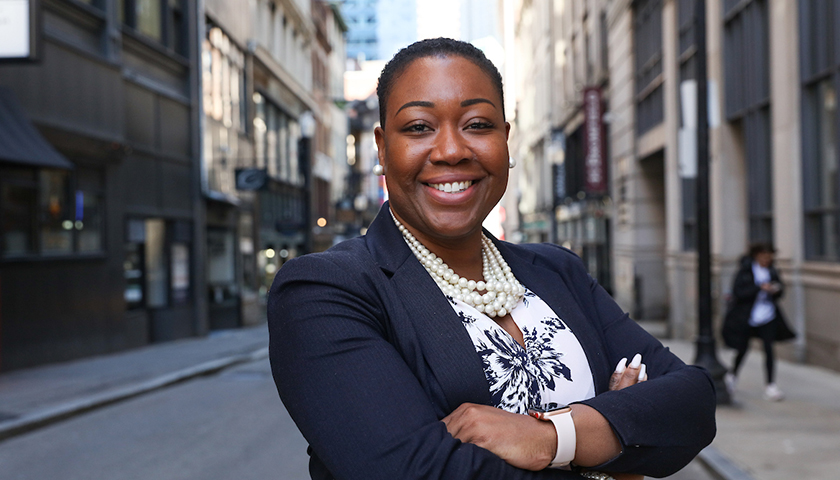 Phillomin "Philly" Laptiste, MHA '12, brings an intimate knowledge of her community and its challenges to the Bowdoin Street Health Center in Dorchester, Mass.
She was born and raised on Bowdoin Street. She lives two blocks away from the office. And for more than 11 years she's worked at the center, where she's now executive director. Laptiste is, in many ways, the consummate community leader.
"At the health center, I get to do meaningful work and feel really good about being part of a growing, changing community," Laptiste says. "How often do people get to do a job they love and say they're effecting change, not only for themselves and their families, but also for friends and other residents? What an opportunity."
Now Laptiste has another opportunity: She's recently been nominated to serve on the Board of Health, the governing body of the Boston Public Health Commission, the oldest health department in the country. That will give her the opportunity to take what she's learned as an on-the-ground community health professional and use it to help guide public health decisions for the city of Boston. Her nomination awaits approval by the City Council.
"A lot of the work I've already done with the Bowdoin Street Health Center is for grants for the health center, social justice, racial equity, and similar issues," says Laptiste. "So I feel very excited to be able to share thoughts and ideas about current and future programs and to work closely with other colleagues for whom public health is a passion. And then to help make an impact on Boston. That's all very exciting."
All health is local
The issues that Laptiste sees at Bowdoin Street Health Center are prevalent citywide, which gives her an immediate understanding of the challenges faced by the larger population. Top of her list: Type II diabetes and food insecurity.
"When you look at the maps of Boston that show the prevalence of diabetes as it relates to where you live, where you live truly matters," she says. In more-urban areas, there are fewer resources and less green space for walking and exercising," explains Laptiste, who is a longstanding member of Suffolk's Healthcare Administration Program Advisory Board and also taught a course in the fall of 2018. But farther away from those areas, the rates of diabetes and food insecurity get significantly better based on resources and where people live.
"When I think about public safety and access to healthy food, that impacts so many other things, like a ripple effect, for many other diseases and other preventable conditions."
Laptiste lost her father to diabetes during the first semester of her graduate program in Healthcare Administration. She later lost a cousin to gun violence and, months before graduating, gave birth to her second daughter.
"I had some pretty interesting, life-changing situations that could have deterred me from completing my master's," Laptiste says. "But my professors were instrumental in supporting me and pushing me to continue to figure out a way to keep going. My MHA degree I hold very near and dear to me."
Laptiste was confirmed to the Board of Health and began her tenure in April.
Contact
Greg Gatlin
Office of Public Affairs
617-573-8428
Ben Hall
Office of Public Affairs
617-573-8092